Lights, Camera, Action!
  The three-part stage act of the heartwarming and comedic play "You Can't Take It With You" adds a new twist to this school year's theater set. For many years, Shadow Ridge has excelled greatly in its performing arts, specifically the theater program. 
Katina Hartley, the adviser over the theater program, has worked tremendously with her team to put together a great set of performances for the following year and in years past. Taking time through the tedious process helps highlight even the tiniest details to make every production the best. 
"Our theme was childhood stories and finding your own path last year. So this year, we wanted to go with a family theme, so we chose family ties." Hartley reveals, "As a department, we decided on the musical first, and then I decided on the other shows. So once we chose "The Addams Family" as the musical, I looked for plays similar in theme to that show."
The piece was written in 1936 when Moss Hart and George S. Kaufman eventually took their work to Broadway after working strenuously to get it to today's performance. The play ran its course as it was played around 838 times in its entirety on Broadway. 
Central Characters, Alice Sycamore and Anthony Kirby, will be portrayed by seniors Rhea Wojack and Patience Woods, who work very hard to fulfill their characters' personalities in their final year. Both cast members work to have a good time and enjoy every last second of being on stage. 
Wojack says, "When I went into the audition, I decided I just wanted to have fun. I got nervous and decided, who cares what character I get, I'm just going to have a good time, and that just rolled over to how I feel now. I like my character and just want to have fun with it." 
"It takes some getting used to because the more time you spend practicing your character, it just naturally comes to you." Woods dives deeper, "Because this is the first play I've ever done, I was more focused on just getting the chance to do it since this is my last year. So I didn't go in expecting a specific character."
This play, taking place November 3 through the 5, sets the runway for the next two productions to flourish. Requiring a 10 to 15-person backstage crew, there are only high standards expected from the cast and staff.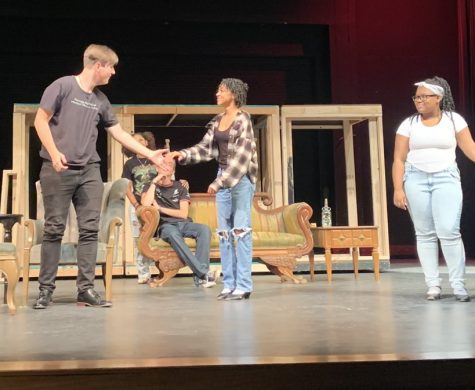 "You Can't Take It With You" used to be performed a lot, but it hasn't been done for a long time. So I thought this is a good thing because it revives the show, and it's not something that everyone has seen," Hartley justifies. 
This play has touched many hearts and swayed opinions in their favor, earning a Pulitzer Prize in 1937 for Drama and was taken to the big screen, winning an Academy Award for Best Picture and Director. 
To keep the play in tip-top shape, senior stage manager, Myles Jones, explains that a big task for him is keeping the cast motivated and concentrating on the main goal. His work does not go unnoticed, as he works to help the cast in any way possible. 
"Being stage manager means I'm in charge of all the actors, so I have to run their warm-ups and everything. I had to run their auditions, not in the room itself, but I let them in and everything. I'm kind of like an assistant director," Jones explains. 
Waiting in line to take its spot in the many successful plays that have been put on, "You Can't Take It With You" will shine bright in the Shadow theater this November.