Taylor Swift's Upcoming Album, "Midnights"
MTV's Video Music Awards have been a hot spot for iconic moments in the past decade. From Lady Gaga's infamous 2009 performance to Beyonce announcing her pregnancy while performing in 2011. The most recent event had the internet in shambles. At this year's VMA's, Taylor Swift announced her 10th studio album while accepting the awards for Video Of the Year. 
Swift is undoubtedly one of the most popular artists of the time and has an extremely dedicated fanbase. After 2021 being an extremely eventful year for Swift which consisted of winning Album of the Year at the Grammys and releasing the re-recording or the Taylors Version of her albums Fearless and Red. Fans have been speculating Swift's next move ever since. Wondering exactly what she has planned whether that be another re-recording or a whole new album entirely. Wildest Dreams (Taylors Version) has been out for months now, so fans believed that was up next. But in reality, it was a different direction completely.
It wasn't even confirmed if Swift would make an appearance at the VMA's despite her multiple nominations. So, when Swift showed up on the black carpet clad in jewels, fans were shocked. She came with Dylan O'Brien, who starred in her short film All Too Well, which was up for an award. As soon as she showed up, fans started speculating what was up. Everyone believing her diamond like dress was a nod to her music video for Look What You Made Me Do. When Swift won the award for video of the year, she decided to give fans the surprise of a lifetime.
"I had sort of made up my mind that if you were going to be this generous and give us this, I thought it might be a fun moment to tell you that my brand new album comes out October 21. And I will tell you more at midnight," Swift said on the VMA stage.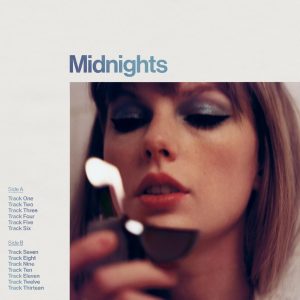 Fans were ecstatic but at the same time, confused, wondering if it is a re-recording or not. Swift stuck to her word and at midnight, posted the announcement of her 10th Studio album titled Midnights.
"We lie awake in love and in fear, in turmoil and in tears. We stare at walls and drink until they speak back. We twist in our self-made cages and pray that we aren't—right this minute—about to make some fateful life-altering mistake. This is a collection of music written in the middle of the night, a journey through terrors and sweet dreams. The floors we pace and the demons we face. For all of us who have tossed and turned and decided to keep the lanterns lit and go searching—hoping that just maybe, when the clock strikes twelve…we'll meet ourselves," says Swift via Instagram.
The announcements immediately made headlines with the post now being her most liked post on the platform. The album is to release October 21st. It is unclear if she has a tour in plan or any other surprises up her sleeve.