It's Time to BeReal!
There has been a surplus of apps that have gone viral in recent years like TikTok and Instagram, but the newest app that has caught the attention of young people is BeReal. Developed by their CEO Alexis Barreyet in December of 2019, the photo sharing app has gained huge popularity over the last few months.
The name BeReal has been trending throughout all social media platforms but, what is BeReal? Users are to simultaneously take a front and back camera photo every day at a specific time, within a two-minute window. In an article published by The Guardian, the app is described, "Users snap whatever they're doing at the time-not matter how unglamorous- paired with a selfie- no matter how unkempt.," The app's purpose is in the name, BeReal, showing friends what a person is doing no the circumstances. An ad for BeReal says, "No Filters, No likes. No Followers[…]No Ads. Just your friends for real."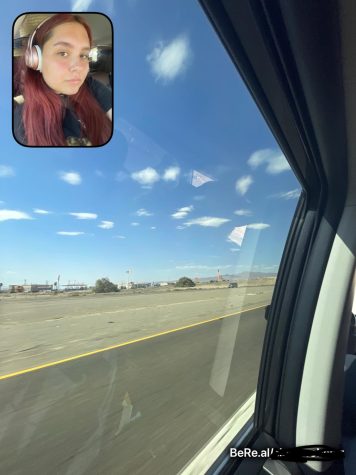 BeReal is currently the Number 1 social marketing app in the app store in the US and continues to grow rapidly. July being its biggest month yet, the number of times it was downloaded increased 86% month-over-month from June for a total of 7.8 million. Its primary demographic is college students and teens. The fad that is BeReal has spread nationwide, including Shadow Ridge. After conducting a poll asking if the students at Shadow Ridge have BeReal, 56% said yes.
"I really enjoy BeReal. I think it's such a fun new way to connect with your friends and see what they are up to. The whole concept is pretty cool," junior Celeste Torres stated.
It's so popular in fact that Instagram has an almost identical app feature in the works.
"In an apparent attempt to copy the popular app BeReal, Instagram is rolling out its own feature (called 'Dual') to take disappearing photos using the front and back cameras simultaneously," says Journalist Paris Martineau via Twitter.
The production of the new installment of the "Scream" franchise has begun and with that have come daily BeReals from the actors and crew on set which has caused virality. The BeReal format has also become a meme format to parody movies.