Tempt Fate With a Brain Freeze at: Bahama Bucks
With temperatures rising in Las Vegas, students are encouraged to chill off with some snow cones from Bahama Bucks located at, 6315 Losee Rd Suite 101, North Las Vegas, NV 89081. The place was originally founded in Lubbock Texas by Blake Buchanan in 1990. The Vegas location opened in 2013. Bahama Bucks has a wide variety of unique, flavorful, and regular snow cones to choose from. Fellow journalist Mallory Priest who is a junior at Shadow Ridge High School has gone to Bahama Bucks a couple of times and has decided to give the people her opinion on the interesting yet flavorful snow cones.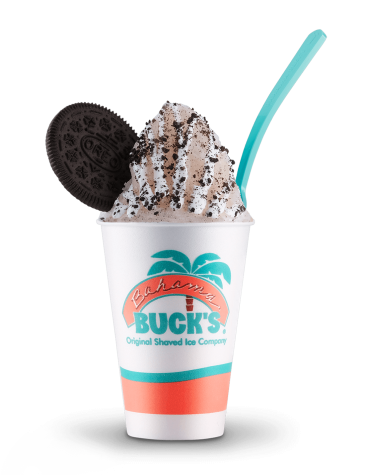 "I've gotten the oreo snow cone before which tasted exactly like an oreo. I like snow cones because they are so simple and easy to eat and make. Also, they're a super reliable summer snack. They'll never let you down," said Priest. 
Snow cones will always have everyone covered when they are in need of a sweet refreshing treat. 
The story of how Bahama Bucks came to be is a very sweet small town story.
"Blake had spent the previous summer mowing lawns with his older brother and he decided that he wanted to do something a little different for the summer of 1990. While looking through the local want ads, the Thrifty Nickel, he noticed an ad for a snow cone ice shaver. Blake realized that the perfect cure for the scorching West Texas heat was a shaved ice shack, later coining the term Greatest Sno onEarth®. Blake purchased the shaver and the idea for Bahama Buck's Original Shaved Ice was born.
With the help of his parents, grandparents, and long-time girlfriend, Kippi, Blake built the very first Bahama Buck's in his parent's Texas-sized backyard. Blake drove the 240 square foot original Bahama Buck's through Lubbock to a rented spot of land and opened for business on June 12, 1990," stated Bahama Bucks website.
Bahama Bucks has been in production for over 30 years now and has 100 flavors of Sno, Island Smoothies, Bahama Sodas, and more they even have thor pup cone for peoples furry companions.
Would you try Bahama Bucks?
Sorry, there was an error loading this poll.
"Ever tried a crunchy snow cone? Yeah, that's not us. Bahama Buck's Shaved Ice is so light and airy, it rivals Mother Nature. Make it your own by choosing from over 100 original gourmet flavors and toppings from the Bahama Buck's menu," explained Bahama Bucks Website 
Bahama Bucks prided themselves on their perfectly smooth ice. Their prices are pretty inexpensive. Their most expensive item is sixty dollars, but that is for their paradise party pack. For their Snos, sodas, smoothies, and more their prices range from about four to eight dollars. 
If people find themselves for a cold sweet treat this summer Bahama Bucks is a great place to cry. With their wide variety of flavors there's something for everyone, even furry friends.