Fantastic Beasts: The Secrets of Dumbledore
After the long-awaited third installment of the Fantastic Beasts trilogy, it was released on April 15, 2022. It was originally supposed to come out in theaters back in November of 2020 but was pushed back due to the COVID-19 pandemic. The Secrets of Dumbledore first premiered on March 29, 2022, in London and when it was released worldwide, it had grossed a total of 376 million dollars. It became the fifth highest-grossing film of this year but was the lowest-grossing film in the Harry Potter/Fantastic Beasts franchises. 
The movie revolves around how the infamous dark wizard Gellert Grindelwald is moving to seize control of the wizarding world. Professor Albus Dumbledore knows Grindelwald and with the knowledge that he is unable to stop him alone, he seeks out Magizoologist Newt Scamander to lead a group of wizards and witches to help stop the dark wizard. After being assembled, the group runs into numerous old and new beasts as they fight with Grindelwald's growing number of followers.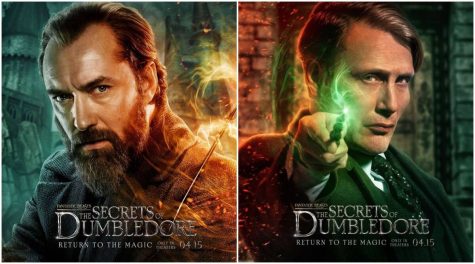 Newt Scamander didn't get as much screen time compared to the previous movies which caused some fans to be a little confused, due to the fact that he is one of the main characters. Even though his appearances weren't as frequent, viewers were able to see a much more emotional side to his character and the growth that he's shown throughout the trilogy. There is also the topic of how the character Grindelwald was originally played by actor Johnny Depp in Fantastic Beasts: The Crimes of Grindelwald, but because of recent events, Mads Mikkelson took over the role. Of course, fans were upset when they heard the news, but Mikkelson was able to do a good job nonetheless. 
Junior, Mallory Priest is a huge Harry Potter fan and feels that seeing the prequel to the movie it helped her understand why some characters are the way they are.
"My favorite part of the movie was probably the end. Not to spoil it, but seeing the truth become unveiled and how the story ended was so interesting to me," says Priest. Surprisingly, she hasn't seen the other two movies, so of course, if she had to choose, this one would be her favorite if she had to pick. "I started watching the first one but couldn't get into it, but after watching the third one I want to give it another shot," Priest explains. 
The Secrets of Dumbledore received mixed reviews from the audience but was still able to draw the attention of Harry Potter fans. While Fantastic Beasts was originally supposed to be a 5-film franchise, Warner Bros has not announced any information about whether or not they will follow through with those plans or just keep it as a trilogy.