Derry Girls' Third and Final Season
The popular show Derry Girls is being renewed for a third and final season. The season was announced in 2020 and began airing in April 2022. The final episode will be released May 17th. Once all the episodes have aired, all three seasons of Derry Girls will be available to Netflix users!
Derry Girls is a coming-of-age sitcom about five teenagers living in Northern Ireland during The Troubles- a religious conflict between Catholics and Protestants in the 90's. 
Despite the show taking place in a heavy time period, Derry Girls is really a comedy that follows four Irish teenage girls and one English boy making their way through high school.
Production of season 3 was put off for a long time due to COVID 19. The pandemic forced the writer and cast of Derry Girls to hold off filming for almost two years, but last year they were finally able to resume production.
Actress Nicola Coughlan who plays Clare spoke about their difficulties filming throughout the pandemic.
"We're still waiting, because it's integral to the show that we film in Derry," she said in January 2021. "And we can't do anything involving a crowd right now, so logistically, it's really tough."
Fortunately, the cast persevered and finished filming!
Fans are looking forward to many possible developments with the characters such as a long awaited romance between James and Erin. Unfortunately, season 3 will be the final installment of the Derry Girls series.
Many fans were sad to hear this would be the last season, but writer Lisa McGee has teased potential future extensions of the Derry Girls, namely a potential Derry Girls movie.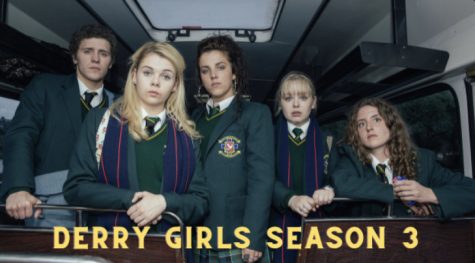 "The plan was always to say goodbye after three series," McGee said. "Who knows if Erin, Clare, Orla, Michelle and James will return in some other guise someday but for now, this is it for us and we're excited to start filming this series with our incredible cast and crew to hopefully take our loyal fans on one last adventure."