Marvel's Moon Knight
Marvel's Moon Knight was first announced in August of 2019. The anticipated Disney+ exclusive show, released its first episode on March 30th, 2022. So far, only one season has been confirmed which left many viewers sad when they heard this news. In total there are six episodes, each being around 40-50 minutes long. The show itself revolves around the main characters Steven Grant and Marc Spector. It is an unusual situation because these characters are both played by the same actor (Oscar Issac). It is confirmed that the characters he plays struggle with Dissociative Identity Disorder, DID for short. 
"I really loved the concept of the show and how the main character had DID, it was cool to see how he was living two different lives and I just like how it played out. I also love Oscar Isaac, so it was interesting to see how he carried out this role," says senior, Erika Gallardo. 
The show also focuses on the different Egyptian Gods which makes it more interesting to watch. Khonshu, the god of vengeance and the moon plays a big part in the show because he uses Marc Spector as his avatar. By doing this, he is able to enter the earthly plane. This is where Moon Knight comes into the picture.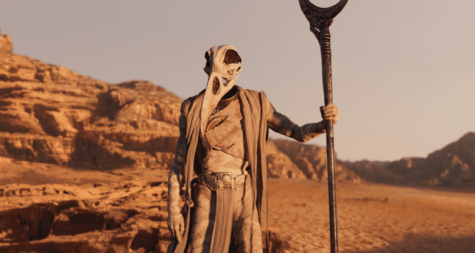 Spector is able to take on the persona Moon Knight because of Khonshu. With the powers that come with being Moon Knight, he enacts justice to protect the people who travel at night. He is known to get his powers of speed, strength, and endurance through the moon, due to him being the god of the moon. Moon Knight was originally a Marvel Comics character, and made his first appearance in 1975. The comic was called Werewolf by Night #32. Although his character was popular amongst the comic book readers, he was still not very well known today. That was until Marvel released the show.
"I definitely think that a lot of people would like this show, especially if they're a Marvel fan. It has so much action and is also funny," Gallardo explains.
Senior, Danica Franklin is another fan of the show because it was captivating and always kept the audience on their toes. She had been keeping up with most Marvel shows/movies since quarantine and she thought that the trailer looked cool when it first came out.
"Because it's Marvel, I feel like the people that aren't caught up with anything that they've recently released think that this wouldn't be the type of show that peaks their interest," says Franklin. 
There are speculations among the fans of the show that there is going to be another season, which is causing a lot of anticipation. The writers have neither confirmed or denied any of these rumors yet, but hopefully the news will come out soon.