Brigerton Season 2 is Here!
The second season of the hit Netflix Regency period drama, Bridgerton, released on March 25th. It has been received well, and some might argue was better than the previous season. 
This season tells the story of the second novel in the Bridgerton series, The Viscount Who Loved Me. This season centers around the character of Anthony, and his enemies to lovers relationship with Kate Sharma. As Anthony attempts to court Kate's younger sister, Kate tries to get in his way as she sees him unfit for her sister. But the two enemies begin to form a silent desire for one another.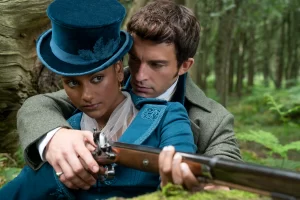 Jonathan Bailey, who plays Anthony Bridgerton states in an interview with Harper's Bazaar said that before season 1 even began, "I read the second book before I accepted the role, and what drew me really to him was this sense of grief and loss."  
In the same interview, Bailey exclaimed "Simone is phenomenal and this working relationship is so unique. It was evident straight away." "We sat facing each other on a wiped clean sofa, and it was all a bit sort of sterile in a really big room in the middle of a pandemic, and yet it immediately felt like we were at home. And I think that's so true for Kate and Anthony—they feel at home together, and that's why he's so obsessed and curious about what he feels when he's around her."
"There's so much chemistry between them. It's such a magical love story. I'm excited for everyone to slowly see them gravitate towards each other throughout the series," says Simone Ashley in an interview with Today.
Anthony Bridgerton and Kate Sharma are not the only characters with prominent arcs this season. Audiences were excited to see what w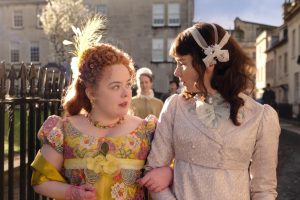 ould happen with Penelope Featherington, played by Nicola Coughlin, after she was revealed to be Lady Whistledown last season. Her double life as Lady Whistledown begins to take its effects on her and Eloise Bridgerton, played by Claudia Jessie's, friendship this season, as Eloise relentlessly searches for Whistledown's identity, and Penelope tries her best to keep her identity a secret.
"It was even funny for me filming the ballroom scenes with Claudia [Jessie]," says Coughlin in an interview with Shondaland, "what I would normally do as Penelope in those scenes — quietly observing, listening into others' conversations — I realized I couldn't because Eloise is literally right there."
Bridgerton is streaming right now, and is a good watch for anyone looking for romance and drama.
Netflix