Olivia Rodrigo Grammys
Prior to attending the Grammys, Rodrigo had been nominated for seven awards. These nominations include Record of the Year, Album of the Year, Song of the Year, Best Music Video, Best New Artist, Best Pop Solo Performance, and Best Pop Vocal Album. At the end of the night Rodrigo walked away with a total of three Grammys., Best New Artist (SOUR), Best Pop Solo Performance (Drivers License), and Best Pop Vocal Album (SOUR). 
In addition to her award spotlights, she also performed her world renowned song, Drivers License. It began with Rodrigo in a vintage car, which she eventually made her way out of to walk around the stage, which was designed as a suburban street. The song features the story of the emotional roller coaster she went through during the well-known breakup between her and Joshua Bassett. It describes the heartbreak she experienced, which many young people can relate to.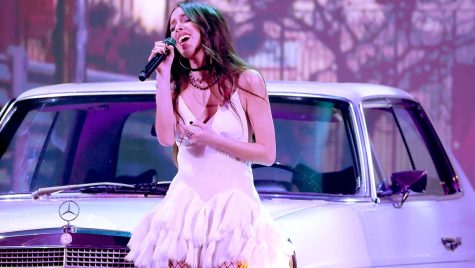 Rodrigo's first Grammy she received was for Best Pop Solo Performance for her song, Drivers License. She was unable to collect her award due to preparation for the main ceremony. Her first acceptance on stage was for her award for Best New Artist. In her speech she featured several people who have helped her get to her point in her career, the most crucial being her producer Dan Nigro. She thanked him for his dedication to her music and overall thanked him for being a great friend and collaborator in her career thus far. 
She dedicated her final award for Best Pop Vocal Album to her parents. She thanked them for always believing in her, and being supportive throughout all her dreams in life. 
"I want to thank my mom and my dad for being equally as proud of me for winning a Grammy, as they were when I learned how to do a back walkover. This is for you guys, and because of you guys…" Rodrigo stated to acknowledge her thanks to her family during her acceptance speech.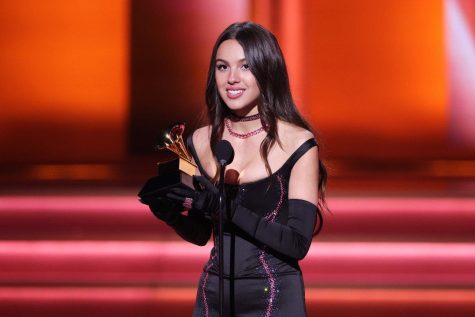 Following her speech and performance she went backstage and accidentally dropped and broke one of her trophies. She was shocked, but assisted to help fix the presentation of the awards for more pictures with her arms full of Grammys. 
Rodrigo received the recognition she deserved at the 2022 Grammys. She has made a name for herself and is finally being awarded for outstanding achievements. In addition to her well-known SOUR album, Rodrigo also released a short film, "Driving Home 2 U (A SOUR Film). It features the process of creating each song on the album as well as raw versions of the songs. At the young age of 19 she has achieved so much, and everyone is waiting to see what her next move is!