New Wallows Album, "Tell Me That It's Over"
Wallows, an indie band of three guys named Dylan Minnette, Braeden Lemasters and Cole Preston are set to release their long-awaited second album, "Tell Me That It's Over"  on Friday, March 25th.
"
I really like the Walllows, and I'm really excited to hear what they are going to do next with the new album."
— sophmore, Allie Bernosky
Although the boys didn't release their first true song as Wallows until 2017, Minnete, Lemasters and Preston have a long musical history. Minnetee may also be known because of his lead role in the Netflix series, 13 Reasons Why. In 2011 they formed a group called Join The Band along with bassist Zack Mendehall. The name was changed to Feaver which was the name they performed under at 2011's Warped Tour. Before becoming the band people know as Wallows, they were also named the Narwhals. Now the band, without Mendenhall, have become extremely popular since their debut.  In April of 2018, their fist EP titled "Spring" Was released featuring the song These Days which was RIAA certified Gold. In 2019, their first album, "Nothing Happens" featured their most streamed song yet, Are You Bored Yet? Feat. Clairo. The song reached a peak of number 2 on the US Alternative Airplay chart. 
The band has come a long way since their debut album. Since then they've embarked on a Tour, been nominated for an MTV Music Award and an iHeartRadio Music Award and many more. Their most recent endeavor is their second album. The album has a track list of 10 songs with the songs I Don't Want to Talk, Especially You (which NME called a "love-drunk single),  and  At the End of the Day already released. The album was produced by Ariel Rechtshaid, a GRAMMY award winning producer that has worked with talents like Vampire Weekend, HAIM and Adele.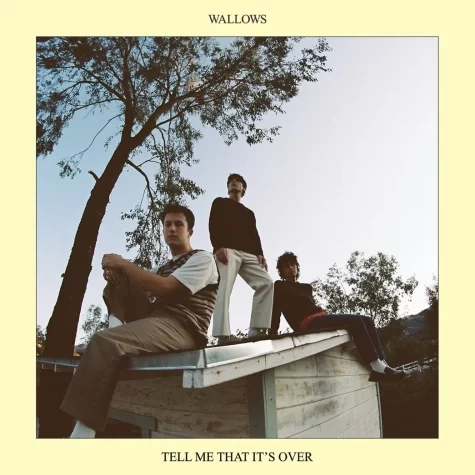 The release of the album has made many fans, new and old, extremely excited.
Sophmore Diego Martinez says, "Well I'm very excited for the new album especially after listening to the songs that'd been released recently. I just know I will like all of the songs on the album and yeah I'm just very hyped for the new album."
Along with the album, the band is going on a North America tour that starts April 1st but, more dates for Australia, New Zealand, UK and Europe have been added. Along with their very own tour, Wallows is set to perform at music festival Coachella, during weekend two of the festival.