Turning Red with Excitement
On March 11th 2022, Pixar's new feature film, Turning Red, released on Disney Plus. The film currently has a 95% rating on Rotten Tomatoes. Turning Red was directed by Academy Award winner Domee Shi, and the story itself is semi-autobiographical in relation to her life. 
Turning Red tells the story of Meilin Lee, or Mei for short, a 13 year old, Chinese-Canadian girl as she navigates life as a young girl going through puberty in Toronto. One day Mei discovers that when she gets too worked up, she turns into a giant red panda. Mei's mother, Ming, is overprotective "if not slightly overbearing" (Disney), throughout the film Mei learns to find the balance between her personal needs and her mother's approval.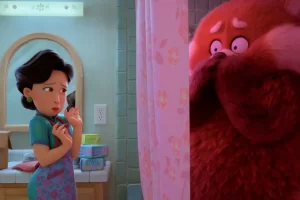 Throughout the film Mei goes behind her mother's back and uses her panda to make money for a concert, all while waiting for the day that she will perform a ritual to get rid of her panda for good.  
In an interview with Good Morning America, director Domee Shi said the idea for Turning Red came about when she thought "Wouldn't it be so funny and cute if this teen girl uncontrollably poofed into a giant red panda?'" She explained that the red panda is "a metaphor for the big changes that we go through in life."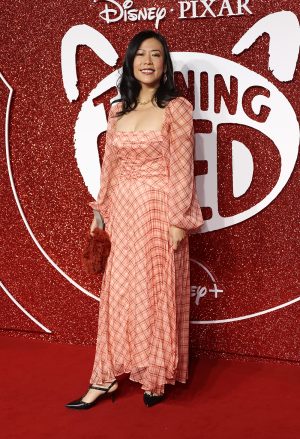 The film has been getting backlash for portraying topics such as puberty, especially periods and girls liking guys. When questioned if this was "too adult" on Good Morning America, Shi stated "It's so not… Every girl goes through getting their period, and it's not an adult topic, like death, like betrayal, like murder, revenge and jealousy. And I think all of these things are important to kind of teach kids about."
"I started recording for Mei when I was 12. 12 to 16. I was in that age range of experiencing puberty, and changes, and messiness, all while Mei was," says Rosalie Chiang (voice of Mei) in an interview with Looper. Sandra Oh, the voice of Ming said in the same interview "for me, to represent the parents in this film — because the film is about Mei — but to represent Ming well, I absolutely drew from my own experience. The experience of loving your child, and then having to let them go, is a very difficult part about parenting."
Turning Red is funny and relatable, especially to young girls. The film is a landmark for portrayals of women and Asian representation in media. Hopefully, many will give it a watch
Pixar