Encanto Movie Review
"

"Surrounded By The Exceptional, It's Easy To Feel Unexceptional" -Mirabel"

Encanto has taken the world by storm, and not one created by Pepa! This extremely popular 2021 film has received high praises, even earning a 91% critic rating on Rotten Tomatoes. With magic, danger, relatable characters, excellent soundtrack, and a thrilling emotional journey, it is the perfect movie for all ages.

The movie starts with some background information about the life of Abuela, who has had some tough times. She was rewarded with magic, of which she built her community and her family. Viewers get to know each member of the family, with their extraordinary powers and abilities well, except for Mirabel. Mirabel was not gifted with powers and feels obligated to prove to her family and to herself that she is just as special as everyone else. She takes it upon herself to save her family, town, and the magic, so that she can finally feel as important as those around her. Veiwers can easily relate to Maribel, as she constantly feels how everyone has felt at one point or another, innadequate. She proves however that she has been underestimated and can do whatever she puts her mind to. The Madrigal family has a lot of problems, pressures, and hardships, yet at the end of the day they still love each other, even Bruno.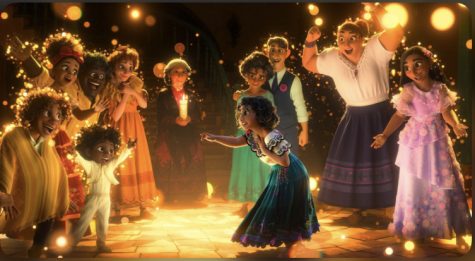 The movie itself has a dazzling picture, with great animation. It has catchy Spanglish songs (written by Lin Manuel Miranda) that have even aired on the radio. It provides a great message about being who one truly is, and how self worth does not rely on special gifts. Not only that, but it is amazing to see Disney bringing different ethinicities to the platform, as it is based in Colombia.
Freshman Karrissa Murdoch is a fan of Encanto, and would definitely reccomend it to other students. She says, "It's a great movie, I really admire Luisa's strenght and Maribel's determination."
Movie critic Collin Garbarino from World Magazine also enjoyed the film, writing, "Disney deserves some credit for abandoning its typical formula with Encanto. You won't see a princess sing songs about personal actualization. The film celebrates community and doesn't even have a villain. Instead, Encanto acknowledges the difficulties of family life when close relatives unintentionally hurt and disappoint us."
Encanto really does not dissapoint. It is the perfect feel-good movie with a beautiful Columbian representation. It shows veiwers how their worth is so far beyond what they may think, and that is a message that the world needs to hear right now. Students are totally encouraged to go check it out!