Life Is Beautiful, The Festival Lineup Announced
Life is Beautiful is a music festival that debuted in 2013 in Las Vegas and has been one of the highest grossing festivals ever since. This year's festival will be held September 16-18 and the lineup was just announced.
On the Life is Beautiful official website, it says, "A name like 'Life is Beautiful' comes with great responsibility. Because Life is Beautiful is more than just a festival, it's a way of moving through the world.," which tells us a lot about the experience already. They also say that its purpose was to transform Downtown Las Vegas which they described as, "a historically underserved neighborhood." They also say, "the festival has focused on building a brand aimed at uniting people around artistic experiences ranging from music to street artists such as Shepard Fairey, brands pooling together for experiences, small businesses and food, among other things." The festival spans 18 city-blocks with 7 live music stages, 70 local restaurants, with DTLV transformed into an art gallery. In 2019, the festival was one of the highest grossing festivals with a revenue of 17.7 million dollars, that year's festival gained 180,000 attendees.
Across LIB's 9 year history, artists spanning decades,genres and fans have dawned the stage. This includes, Kanye West, Dua Lipa, Stevie Wonder, HAIM and many many more. March 15th, they announced the lineup for the next show, with tickets going on sale. Headlining the event are Arctic Monkeys, Lorde, Calvin Harris, Gorillaz, Jack Harlow, Kygo, Migos with 60 more confirmed performances with more artists expected to be announced.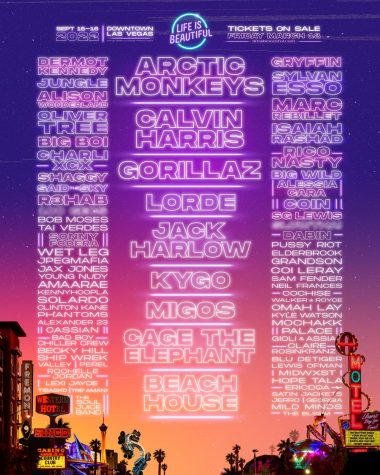 "This years line up is so good!" freshman Loryn Mohlman said.
The festival, although known for its amazing musical performances, also has more to offer. Using Vegas's venue, Very Vegas, comedians also make an appearance at the festival. In 2018, Saturday Night Live star Pete Davidson performed along with comedians like Jimmy O. Yang, Trixie Mattel and more. The website also claims that after the set "…stick around each night for the dance party of your dreams with themes like '90s night, Y2K, Emo Night, and more." 
This year's festival is only the second one to be held since the pandemic began, having the 2020 festival canceled due to the pandemic. Though the festival has been personally affected by COVID-19, the festival has yet to announce any COVID-19 policies such as vaccine or mask mandates, but, they're said to announce their policies on their Instagram once they know.