Disney's Live Action Pinocchio
For generations, Walt Disney Studios has captured the hearts and imaginations of kids and adults alike with timeless classics such as Snow White, Beauty and the Beast, Sleeping Beauty, and countless other magical films. With the help of modern film technologies and the advancements of CGI Disney has been able to give these stories a new face of life and a way for more modern audiences to connect with these cherished films once more. 
Many of these once 2D animated films have been revamped into incredible live-action productions. Titles such as Cinderella, Jungle Book, Beauty and the Beast, Dumbo, Alice in Wonderland, and The Lion King. Disney has recently announced that Pinocchio, will be the newest edition to the live-action remakes.
Lindsey Duke of Slash Film explains, "Disney has put a lot of their creative production efforts into taking animated classics like Cinderella, Beauty and the Beast, and Aladdin and creating live-action versions of the films. A few, like Cruella, and Maleficent, even branched out beyond their original stories to give an expanded story to their villains. This is a trend that isn't stopping any time soon. The Little Mermaid live-action is in production now, and by next fall, audiences will meet Pinocchio again, but this time with a star-studded cast."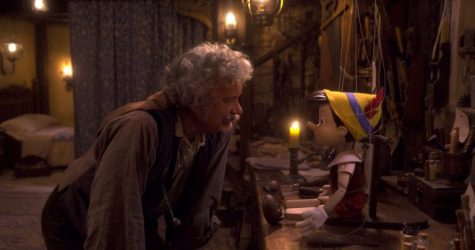 Tom Hanks will be starring as puppet builder Gepetto and The Haunting of Bly Manor's star Benjamin Evan Ainsworth will be playing Pinocchio. The film will also feature Cynthia Erivo and Keegan-Michael Key as well as Luke Evans. Famous composer Alan Silvestri will be composing the orchestra pieces for this film, known for being one of Hollywood's greatest composers with movies such as Avengers, Back to the Future, Polar Express, and Night at the Museum under his belt.
"Directed by Robert Zemeckis, Pinocchio is the latest live-action update in the Disney canon. It also stars Joseph Gorden-Levitt as Jiminy Cricket, Pinocchio's conscience, and one of Disney animation's most enduring creations. Cynthia Erivo also stars as the Blue Fairy, who answers Geppetto's wish to make Pinocchio a real boy, and Keegan-Michael Key will portray "Honest" John, a bad influence in the impressionable young Pinocchio's life. Lorraine Bracco joins the cast as a new character, Sofia the Seagull, and Luke Evans will portray a mysterious figure known as The Coachman," says Maureen Lee Lenker of Entertainment Weekly.
Disney has yet to name a specific release date but has assured fans that Pinocchio will be on screens in the fall of 2022. 
Do you like Disney's live-action remakes?
Sorry, there was an error loading this poll.