The Bowling Team: A STRIKING Season
Because there are so many sports and extracurriculars offered at the Ridge, some sports are often overlooked. Bowling is one of many activities that is sometimes buried behind the scenes. Despite this, though, the Mustang Bowling Teams have definitely created a stir within their divisions. Nikkole Turner is the bowling coach at the Ridge and is the support system behind the bowling department. She encourages both the men's and women's teams with her uplifting attitude and sayings throughout the season. Even as some trips to tournaments can be tiring or even exhausting, Turner does not let that stop how proud she is of her teams. 
"It was a long week, but I am grateful and happy for the opportunity to coach these kids," Turner explains.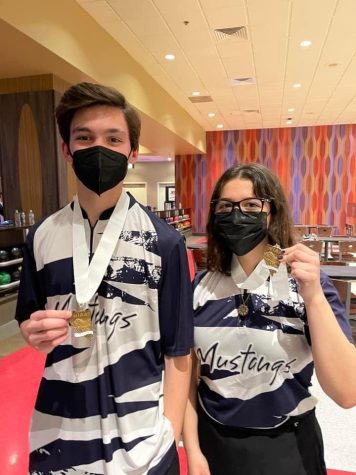 Bowling in itself takes a lot of determination. The sport takes someone with mental strength and pushes them to strive for better. Halley Olsen, a junior at the Ridge and a member of the Women's Bowling Team, had bowling introduced to her by her parents. When she saw her brother bowling as well, she found love in it. With its mental string attached, bowling applies many things to real life as well.
"[Bowling] has helped my social life," Olsen tells. "It has taught me to point out my feelings– like when I bowl [badly] I am learning to point out what I feel… and [I've learned that] if you take time to do something you will get better."
Olsen also looks up to Marissa Ruiz, a senior on the Women's Bowling Team. She is known as the anchor of the team and is seen practicing every chance she gets. Through this, the Women's Bowling Team definitely has a close dynamic. All of them together keep a comfortable environment and allow for each person to grow as an individual.
In that, the Women's Bowling Team has finished top 8 within their division. 
The Men's Bowling Team has had a wonderful season as well. They have finished 79-2; placing first in their division. The team has also qualified for the State Championship.
Seth Stovall, a junior and a first-year on the bowling team, prepares for each match by working on his spare game and just practicing on his own time. His interest in bowling started within his family and he has enjoyed it ever since.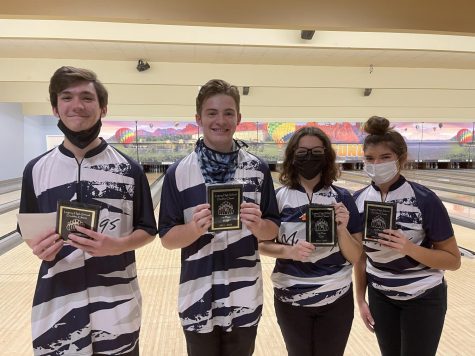 "[Bowling] has probably made me more humble and see how you can't judge people by how they are [in the bowling alley] because they might be just starting," Stovall shares.
The accomplishments of the Ridge's Bowling Team are remarkable. Some of the top 10 state records are held by the men on the Bowling Team. The women have also put up an impressive fight throughout their season. As the season may have ended, the Bowling Team has definitely made an impact– even on the state scale.