Beijing Winter Olympics
The Olympics has had a challenging few years. The 2020 Summer Olympics had to be held in 2021 because of the Covid-19 outbreak, and the Beijing Bubble and vaccine mandate put the status of the Winter Olympics into question. Thankfully, and finally, the Winter Olympics opening ceremony took place on February 4th in Beijing, China.
The Olympics have been around for the last 3,000 years dating back to ancient Greece, the first known game being held in the summer of 776 B.C in Olympia. The Olympics were created in honor of the God of Gods, Zeus, athletes prayed to Zeus for victory and thanked him for the success. Many of the first events are still in today's games like wrestling and sprinting. The first modern day Olympic games, though, were held in Athens, Greece in 1896.
"
I think The Olympics are really cool. It's exciting to see different sports and watch people compete."
— sophomore, Celeste Torres
This year's Winter Olympics was a controversial event. Human rights groups and a few politicians in western nations decided to boycott the games. Many countries, including the US, have accused China of committing genocide against Uyghurs and other Muslim groups in the Xinjiang area. Not only that, people have called out China for Beijing's repression in Tibet, and the freedom of Hong Kong, and the disappearance of Chinese tennis star Peng Shuai. Even though people have expressed concerns and have asked for the location to be moved, The International Olympic Committee decided to stay neutral on the country's "politics." Many country officials and athletes have decided to boycott by not attending the Olympic games.
"We will not be contributing to the fanfare of the Games," stated, United States Press Secretary, Jen Paski
Despite its controversy, the games are being held. Currently in first place is Sweden with 6 medals to the country's name. Many amazing things have happened at this year's games as well. 15 year old Russian figure skater Kamila Valieva made history by becoming the first woman to ever land a quadruple jump at the Olympics. From Team USA, Nathan Chen set a figure skating world record with a score of 113.97 in the men's short program.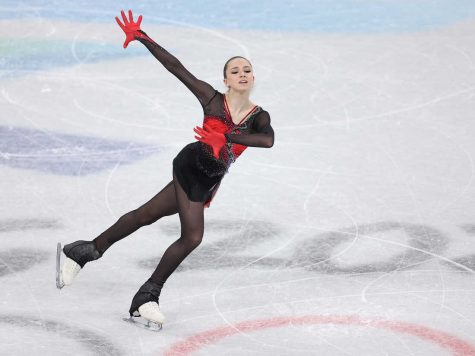 Although the Olympics are normally one of the highest viewed events on television, this year, only 16 million Americans have been tuning in, a 43% drop from the 2018 Winter Olympics. "The Hustle" said some reason Americans might not be tuning in is because of "Olympic Fatigue." Some people feel tired of the Olympics because the 2021 summer games were just last summer.  Other reasons listed are the fact that NBC has only limited footage because they can't leave the "closed loop" of the Olympic village, and, due to the controversies of the location of the games, people decided not to watch.
"I love love love ice skating, long live Tonya," sophomore Abigail Lopez