Fresh Ink
October isn't only a month full of spooky movies, Halloween, and pumpkin spice, it's also a fun month for artists. Artists know October as "Inktober." Inktober is an art challenge that takes place over the month of October where artists interpret the word prompt for the day and post their drawings online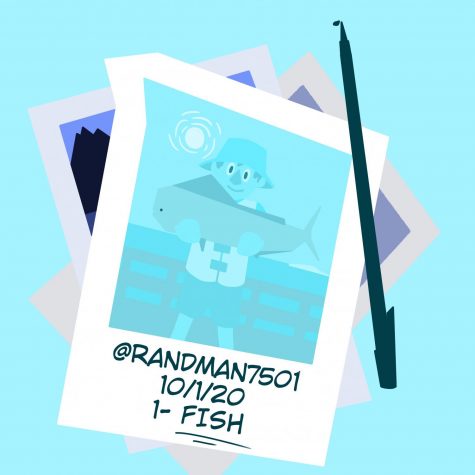 "Inktober is one of the best ways to practice art, as it helps you build a routine of consistently creating art, and also helps those who may be struggling with what they should draw. I have been doing it for 2 years," states Randy Barranca, junior.
Inktober was created by artist Jake Parker in 2009 and has since then gained extreme worldwide popularity within the art community and in online domains. Before 2016, artists would come up with their own words to draw each day, but now official prompts lists are created and shared. Inktober prompts are posted September 1st on the official Inktober Instagram as well as on their website under the Rules and Prompts page. These prompts include a word each day, usually a noun or an adjective. Artists interpret the word each in their own way and their art pieces reflect that. Barranca uses the early posting of the prompts to his advantage by doodling out his ideas for the month a bit so he can flesh his idea out on his computer when it comes the day to post it in October.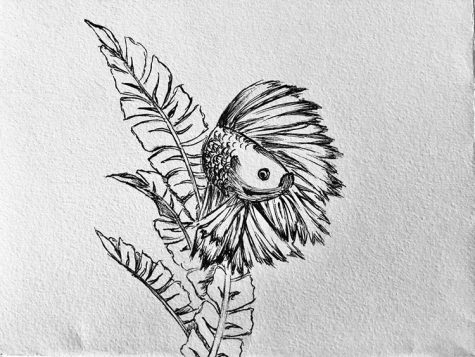 Hayden McCoy, sophomore, explains, "My process starts with thinking about all the directions I can go given the prompt, then choosing the idea that feels right. I use micron ink pens on mixed media paper. I usually do pretty small drawings so they don't take too long, probably 15-30 minutes each depending on what it is I'm drawing."
The first official Inktober rule is that drawing should be done in ink, hence the name "Ink"tober. But over the years, that rule has transformed as people have transferred over to digital art or have felt more inclined to use color or different drawing mediums. Barranca is one of those people.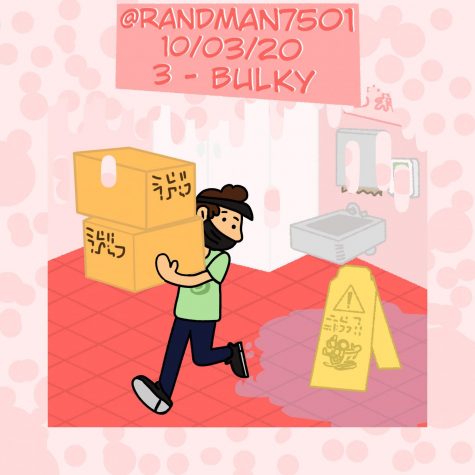 "I use a drawing tablet, as it lets me use any sort of medium or color I want for any given day. I like to base my art around certain colors and tend to make my pieces monochromatic," he shares.
Inktober is fun as both a creator and a viewer. Creators can take their own spin on a prompt word and then see how other artists made the same word into different art. Using the official Inktober prompt list isn't even necessary to participate in Inktober. Alternative lists circulate the web and can appeal to different artists. Some of these lists contain Star Wars related words, words relating to other fandoms, or can be from Inktober52 which is a drawing challenge stretched out to all the 52 weeks of the year. Whatever Inktober prompts artists follow, others can help promote the artist and their art by remembering to like and comment on it.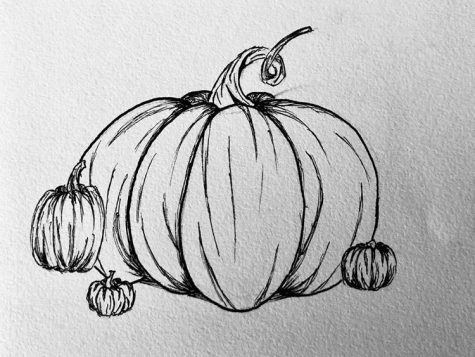 For anyone thinking about taking part in Inktober, Barranca advises, "Make sure you participate every day, no matter how difficult it might be. Building good habits can help you improve your art, and let you work more efficiently over time."
McCoy adds, "My advice for artists wanting to do Inktober would be to just go for it! It was intimidating at first to do drawings with only ink pens, but it has helped with developing new techniques with new mediums and getting me out of my comfort zone to do drawings I wouldn't normally do. I highly encourage anyone thinking about doing Inktober to go for it!"