Opening of Plant Power

Plant Power first began their franchise back in San Diego, California in 2016. Their menu varies from plant based products ranging from shakes, to burgers, fries, juices, etc. Founder Jeffrey Harris began his personal vegan journey when he was 14 years old, due to his awareness of the plight of animals. He wanted to create a better lifestyle for not only people, but the animals. With making plant based products more accessible to the general public, it would help persuade those into consuming products that are better for the environment. He later teamed up with Mitch Wallis and Zach Vouga to create Plant Power, an easily accessible plant based fast food restaurant. In addition to the growing number of Plant Power restaurants in California, Plant Power has expanded its way to Las Vegas in hopes of helping create a more sustainable and healthier lifestyle for more people.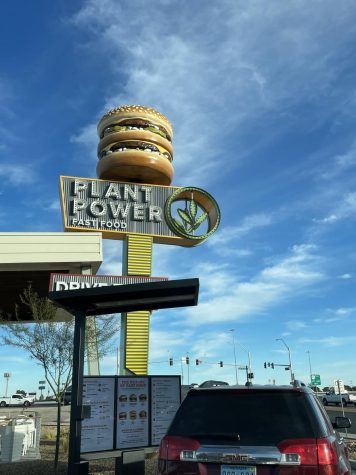 Located on West Craig Road, Plant Power is a drive-thru, dine-in and contact free delivery. When they first arrived in Las Vegas, the line was long, all day, for weeks on end. Finally, the wait time for food has finally mellowed out. When I arrived at Plant Power there was no line in the drive-thru. The menu featured the many foods they offer, most famously known for their burgers and shakes, they also feature items like salads, juices, and desserts. I went with a classic decision of a plant based chicken sandwich with honey mustard as my choice of sauce, and a side of regular fries. The line went by quickly and we received our food within minutes.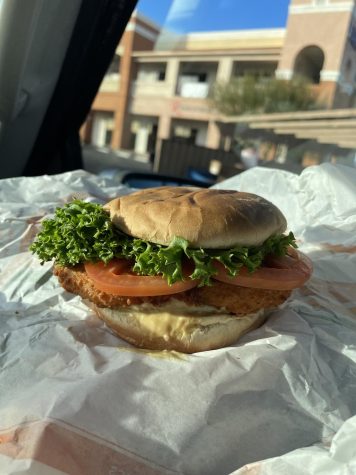 The chicken sandwich was very fresh and crispy. The vegetables that were included were very fresh, and not soggy at all. The lettuce was crispy and the tomatoes were fresh and not mushy. Overall, the sandwich was great. It was very flavorful, and when compared to a traditional chicken sandwich, the texture and taste were almost identical. After I enjoyed the sandwich I also ordered fries. These were the best fries I have ever had. It was crispy and flavorful, without being too salty. I decided to try it with the organic ketchup that is provided, and this made the taste even better. Everything definitely tasted very fresh and not stale at all. Another benefit from this was it was all plant based! I didn't feel gross or anything after eating my meal. I didn't feel tired after, and almost felt refreshed. I've tried many different vegan sandwiches before, and this was by far my favorite. 
Overall, I would recommend Plant Power to anyone who would like to try plant based food, but may be scared it will taste different. Their food is the most similar in taste and texture to any sandwich and fries I've had before. If you're thinking of trying something new, Plant Power is the way to go. 
Would you try vegan fast food?
Sorry, there was an error loading this poll.