New CrunCheese Location Opens Up

CrunCheese Korean Hot Dog first opened their doors in 2019. The first location was in the Shanghai Plaza in Las Vegas, which became very popular among the Las Vegas locals. Recently, they have added a new location to an area that is a bit closer for those who don't want to take the long trip downtown. They just had their grand opening at 6572 N. Decatur Blvd. Around 200 customers come in a day.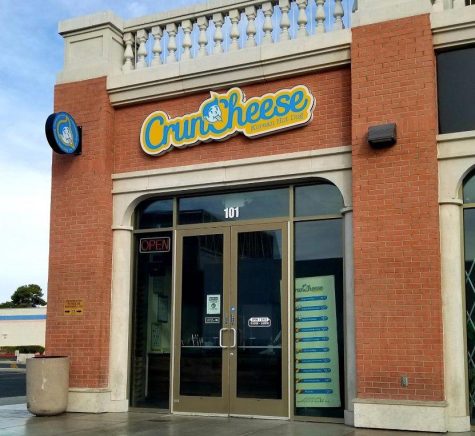 During the grand opening, there were almost 50 people lined up outside because the store inside was so crowded. Senior, Janelle Bonifacio works at the new location and when she heard about a CrunCheese opening up near her, she thought that the environment would fit into her personality (relaxed and casual). She thinks that the working environment is very friendly, welcoming, and easygoing, which is why she loves this job the most compared to her past ones.
"At Cruncheese, we work as a team, so everyone there learned to do everything. We prep the hotdogs with cheese and/or sausage, deep-fry them with our special hotdog batter, work in the front as cashiers, and decorate the hotdogs with sauces and seasonings according to our customer's preference. We usually rotate between these 4 stations," Bonifacio explains.
She was a big fan before they opened up. "I went to the location by Spring Mountain all the time and was very excited to hear they were building a location closer to where I lived," says Bonifacio. At the food establishment, they also own Somi Somi which is an ice cream place, so if the customers like Cruncheese, they should feel free to try out Somi Somi as well. Unfortunately, they don't offer seating inside, there are only the counters and seats outside.
Another senior, Danica Franklin, is also a fan of Cruncheese. She first tried CrunCheese in August of 2019 and has gone back several times. "I haven't been to the new location yet but I've been wanting to. I was very excited when I heard about the new opening," says Franklin.
Cruncheese offers a wide array of corn dogs to choose from. With options like Mozzarella Sausage to Squid-Ink Hotdog, they have a great variety of combinations. Along with the corndogs, they can add toppings such as the originals like ketchup and mustard, to others like parmesan cheese and sweet chili sauce. Customers can also choose to add potato or substitute the batter for the squid-ink batter.
Franklin says, "I usually order the mozzarella corn dog but I've been wanting to try the squid ink batter that they have."
Along with Franklin, Bonifacio's go-to order is also the mozzarella hotdog to which she adds honey mustard, sweet chili, and honey butter on top, with a sugar coating on top.
According to the Cruncheese website, they plan on expanding their franchise to many different states, such as Arizona, Utah, New York, etc… Now that there is a location closer to Shadow students, they can feel free to check it out if they haven't already.