From Disney to Driver's License: Olivia Rodrigo
Popular American singer-song writer, Olivia Rodrigo, is taking one HUGE step forward in her music career. Starting on April second, 2022, the first show for the upcoming debut concert tour titled "SOUR" will be performed, with shows taking place all around North America and Europe. The tour comprised of forty-eight total shows featuring supporting acts such as Gracie Abrams, Holly Humberstone, and Baby Queen will begin in San Francisco, California and conclude in London, England.
Rodrigo started her road to success on the popular Disney Channel show named Bizaardvark, where she played character Paige Olvera, who along with her best friend, Frankie Wong, made songs and funny videos to post on the internet. The show aired from 2016 to 2019, and soon after, Rodrigo got the role in another show titled High School Musical: The Musical: The Series, which is a more modern and longer sequel to the original movies.
"
Olivia is super talented in so many ways. Whether it be singing or acting, she's done it all. "
— Madi Miller
On January eighth, 2021, Drivers License, Rodrigo's hit debut single was released and rapidly began climbing the charts. Containing poignant lyrics detailing heartbreak, within the fourth day of its release, Drivers License broke the record of most single-day streams for a non-holiday song. The song topped the US Hot 100 Billboard within a week, making Rodrigo the youngest artist ever to premiere atop the chart. The song spent eight consecutive weeks at number one. Drivers License also managed to reach number one in 25 other countries, as well as spending weeks atop the charts in 30 more.
Freshman, Leimaile Lasike stated, "Drivers License is a bop! Olivia put her heartbreak into words so that us listeners could relate, as well as let go of all of the emotions we've been bottling up. I listened to it 89 times on the day it was released."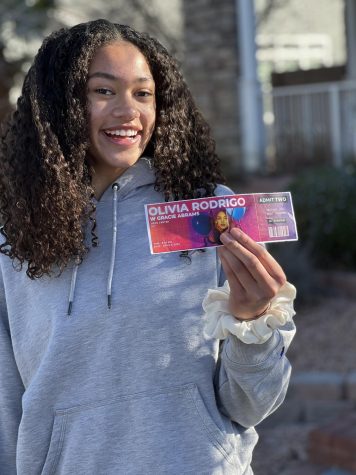 It's been rumored that the motivation behind "SOUR" came from Rodrigo's break up with High School Musical: The Musical: The Series co-star Joshua Bassett. After their breakup in 2020, Bassett was seen with other actress and singer-song writer Sabrina Carpenter which may have been the inspiration behind the lyric, "…and you're probably with that blonde girl." Carpenter responded to the allegations with a song of her own titled Skin which debuted at number 48 on the Hot 100 Billboard.
"I'll always think Olivia deserved better. I understand that it was young love but no one deserves to be hurt like that. The queen herself deserves someone who will love her unconditionally," explained Lasike.
Two other singles following Drivers License preceded the release of SOUR; Deja Vu which peaked at third on billboards and Good 4 U which was Rodrigo's second chart topper. This made Rodrigo the first artist in history to debut their first three singles in the top ten of the Hot 100 and SOUR the first album in history to contain two chart topping songs. "SOUR," broke the global Spotify record for the biggest opening week for an album by a female artist and was officially released on May 21st, 2021.
It was officially announced on December 6th, 2021 that Rodrigo would be going on tour the following year.
Junior, Layla Livingston, said, "I'm very excited for Olivia Rodrigo to go on tour! It's her first time coming out and performing since her album came out and especially since it's such a small audience, I know it's going to be super thrilling for her and her fans."
Tickets for the tour went out on December 10th and sold out in minutes. Listeners all around the world are intensely excited for the long-awaited tour to commence.