Super Bowl LVI, Halftime Extravaganza!
The Super Bowl halftime show is one of the best parts about the Super Bowl besides the actual football game.  This year, Super Bowl LVI will be held on Sunday, February 13  and the halftime show will feature the following artists: Dr. Dre, Snoop Dogg, Eminem, Mary J. Blige and Kendrick Lamar.  These are some legends right here, possibly even some of the greatest rap artists, especially Snoop Dog, who could be named the greatest California rapper of all time.
Shadow Ridge students interviewed said they are excited to watch the halftime show.  They believe this will be the best one yet.
Freshman, Elaina Smith stated, ''During the Super Bowl Halftime Show, I am extremely thrilled to see Eminem making a a comeback! I think he, as well as Snoop Dogg, will really make the whole show. People attending the Super Bowl will be really lucky to see both performers live and in person."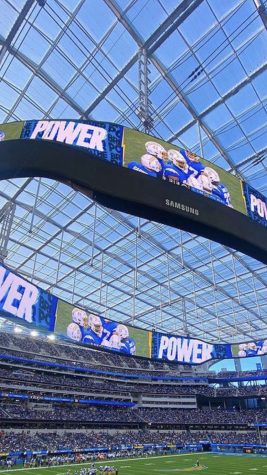 The excitement has been building up for all in anticipation of this great event.
Ron Flenoy, sophomore at Shadow Ridge High School,  stated, ''I'm excited to see the different celebrities, also I'm excited to see what the commercials are about this year.   Snoop Dog and Kendrick Lamar are two of my favorite rappers I love the flow and the way they rap."
The Halftime Show is almost like a free show for people who are watching from home.  This show will be a chance for all to see artists that they would not normally be able to see.
Destiny Parra, sophomore, can't wait for the halftime show, "It's a great opportunity  for these fellow artists to attend the Super Bowl  together.  One of these people, Kendrick Lamar, will be there, he is such an icon for the black community as well as the music industry, as well as Snoop Dog, he has such an impact on the community and is a very great artist. These people attending the Super Bowl have all had a great impact on everybody."
This Super Bowl is highly anticipated not only because of the game but also because of these artists.  Everyone is excited to hear what they perform. It is said that this year the Super Bowl match up is up in the air so even more people will watch. The Super Bowl is set to take place in the newly built stadium which has over 100,000 seats located in Los Angeles, California.  SOFI stadium as it is called was a three billion dollar project and it took over two years to build.  The anticipation is definitely building for everyone.
Whose return are you most excited to see?
Sorry, there was an error loading this poll.