Harry Styles Steps into the Spotlight with Upcoming Films
Harry Styles is a famous singer and songwriter, formerly known as a member of the 2000s boy band, One Direction. While Styles continues his music career, he's exploring a new path, acting. He has previously been in one film so far in 2017, Dunkirk, which was a war movie about the battle of France. The latest one was a new Marvel movie, Eternals, that was released in November.
The movie features a new team of superheroes in the Marvel Cinematic Universe. The group contains ancient aliens who have secretly lived on Earth for thousands of years. They are forced out of hiding to try and fight an ancient enemy, the Deviants. It takes place after the events of Avengers: Endgame which takes place in the year 2023. It came as a surprise to both Marvel and Harry Styles fans that the singer was going to have an unexpected role in the movie.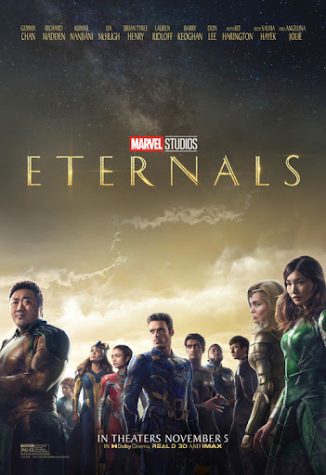 Senior, Erika Gallardo, watched the movie when it came out and was among the many who were surprised by his appearance in the film.
"My sister is one of the biggest Harry Styles fans I know, and when we watched the movie she couldn't wait for the end credits scene to see if the rumors were true," says Gallardo.
Harry Styles fans picked up some clues awhile ago about his role in the movie but it wasn't confirmed until a couple of days before the movie's release. Styles plays a character called Starfox, also known as Eros, who is Thanos's brother. Thanos was the previous villain in the last Avengers movies. Even though Styles is only in the bonus post-credit scene, fans went crazy when they heard that he would be in it regardless.
Before the hype over this new cameo, Styles was currently on "Love On Tour." His U.S. tour lasted 3 months, in honor of his 2019 album, Fine Line. This was only Style's second tour but became the first full capacity indoor concert to happen since the pandemic hit the U.S. The first stop on this tour was here in Vegas on September 4th at the MGM Grand Garden with 13,400 tickets sold. During this tour, Styles held a two-day Halloween event at Madison Square Garden in New York City called "Harryween Fancy Dress Party." Here, his fans would dress up in costumes for the concerts along with Harry himself, who had dressed up as both Dorothy Gale and Pierrot Clown. Love on Tour was wrapped on November 28 in Long Island New York after performing 42 shows. This tour closed with 94.7 million dollars and 719 thousand tickets sold.
Don't Worry Darling is the title of the new film Styles is starring in, along with fellow actors Florence Pugh, Olivia Wilde, Gemma Chan, Chris Pine, and more. This movie is set to premiere on September 23rd, 2022. The movie is directed by Oliva Wilde, who collaborated with Katie Silberman, writer of Booksmart. They started shooting Don't Worry Darling in August of late 2020, but production was put to a stop due to someone on the set testing positive for Covid-19. The break ended after two weeks and they resumed filming in November 2020. This movie takes place in a utopian experimental community and is about "An unhappy housewife in the 1950s [who] discovers a disturbing truth, while her loving husband hides a dark secret," according to Deadline.
Another film Styles is set to take place in is the movie, My Policeman. The movie is based on Bethan Robert's novel My Policeman which is about a school teacher and policeman who meet and fall in love but soon face troubles when another person is introduced. It takes place in the 1950s and the 1990s and Styles will be playing young Tom. Be sure to catch Styles in the cinema for these upcoming movies!