The Hello Kitty Café: Opening Soon!
A brand new Hello Kitty Café is opening soon at the Fashion Show Mall! With adorable desserts to try and plenty of merchandise and photo opportunities, the café is sure to be a trendy tourist spot. Sanrio has two other locations, one in California and one on the Las Vegas Strip, but this is the first location so close to home.
"
I'm ecstatic to have a Sanrio Store in Vegas!"
— Mikayla Maluyo
"Hello Kitty Café Las Vegas offers a supercute menu featuring freshly baked cookies, cakes, donuts, seasonal goodies, and handmade hot and iced drinks, along with a selection of Hello Kitty Café merchandise and a sweet seating area to enjoy the experience. Stop by and say hello!" says the Sanrio website on their new location.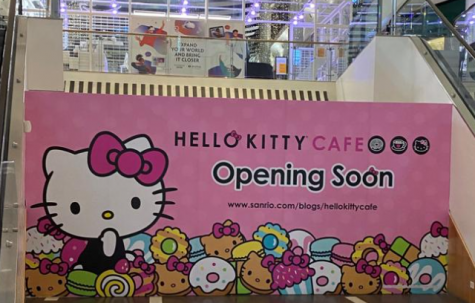 The store, currently marked by a huge "opening soon" banner at Fashion Show Mall, can be found on the bottom floor near the ABC store, right between the escalators. Once opened, their hours will be 10am-10pm every day except Wednesdays (they're closed Wednesdays.)
Mikayla Maluyo, junior, is very excited for the opening.
"I'm ecstatic to have a Sanrio Store in Vegas! I love plushies and I can't wait to find some to add to my collection," she said. Many other Sanrio fans will be able to enjoy the wide array of plushies, clothes, and accessories that will be available at the café.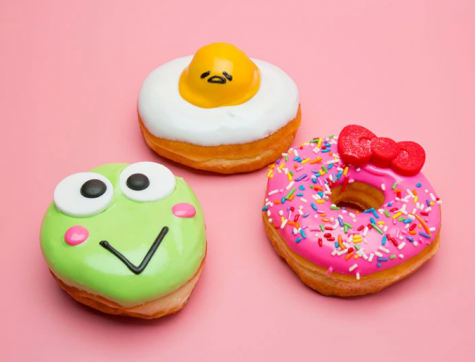 For those unfamiliar with Sanrio, they are a Japanese company that is known worldwide for a cute cast of characters, including Hello Kitty and many others. "Even though Hello Kitty is the most popular in the franchise, my favorite character has to be Tuxedo Sam. His design is absolutely adorable," added Maluyo.
Tuxedo Sam is another one of Sanrio's popular characters, which include but are not limited to; Hello Kitty, Chococat, Cinnamoroll, LittleTwinStars, and the Sanrio Boys.
The café has an extensive menu that includes fresh pastries, cookies, cakes as well as hot and iced Hello-Kitty themed drinks. For more information, go to Sanrio.com and learn more!