Encanto Envelops Audiences
Disney movies, throughout the years, have largely featured stories of European and white origin with Aladdin released in 1992 being one of the first mainstream Disney animations to feature the main cast of non-white characters. In more recent years, Disney has begun to highlight stories from many different cultures such as Coco, Moana, and Raya and the Last Dragon. 
The latest addition of diverse Disney animations will be Encanto, which will tell the story of a magical family from Columbia. The main character, Mirabel is the only one of her siblings to not possess a magical power but is pivotal in protecting the magic that is a part of her family and home. Encanto features the voices of Stephanie Beatriz, Diane Guerrero, Wilmer Valderrama, Carolina Gaitan, with soundtrack composed by Lin Manuel-Miranda.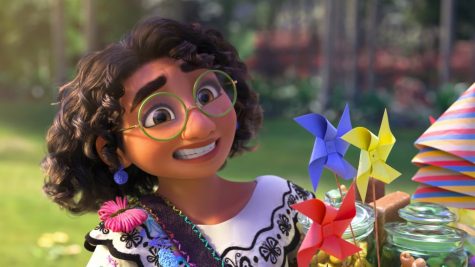 Encanto takes place in the Santa Marta mountains of Columbia and follows the Madrigals, a family that lives in a magical house and whose relatives are all granted magical abilities with the exception of Mirabel who doesn't possess the same abilities as her family. However, when the magic of her home begins to crumble, Mirabel takes a stand and travels to find the source of their misfortune. 
Kristen Page-Kirby, writer for The Washington Post, offers insight into the film's meaning stating, "The characters deepen marvelously as the story goes on, and it becomes clearer that the blessings received as children have now become burdens. If you can manipulate the weather, for example, there's a lot of pressure to keep things sunny. And the film's overarching message, while one we've heard before — people are worthy of love because of who they are, not what they do — is simple yet powerful."
This lively film shows delightfully bright animation and gives off extremely warm and inviting energy. Encanto largely takes place in the family's magical casita but the setting gets much more twisted and magical as Mirabel takes a quest to find the solution to her family's downfall.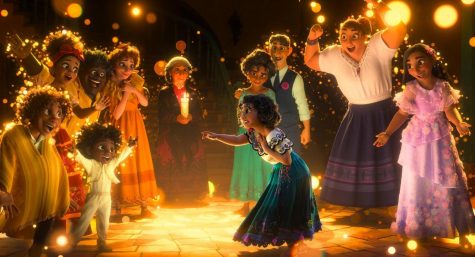 "As always in a Disney animated movie, the visuals are a delight. Look at how a motif of butterflies is subtly represented in the pattern on Mirabel's dress. There is also a panning shot of the Colombian community at dusk with its lights and candles blazing that is warm and welcoming," says Mark Kennedy of Merced Sun-Star.
This is only enhanced by Miranda's wonderful compositions which help to tell the story of the Madrigals. Miranda steps up his game with his second composition project with Disney after the wildly successful Moana and Encanto is set up to be another huge success.
"The clever story is set to songs by Lin-Manuel Miranda and Germaine Franco. The tunes are some of the best Miranda has written for films so far, surpassing his numbers for "Moana" and "Vivo," which were lovely in their own right," explains John Oleksinski of the New York Post.