Retro Bowl Takes Students Back to the 1980's
Retro Bowl is a football game developed for iOS and Android, by New Star Games.  The game was released in January 2020 but it started to get popular in October of 2021. It got a lot of exposure from Tik Tok and other social media platforms. This game is so popular because it's free and it mimics the original Retro Bowl that was so popular from back in the 1980's.
Several students at Shadow Ridge High School like playing Retro Bowl more than any other phone game currently.
Sophomore Jeremiah Campbell stated,'' Retro Bowl is a fun game all around and I really like it because I'm a football player and it's better than most other football games out there.  I love the creativity of it and you are able to pick your own teams. I also really like the different moves on the game because I like to break ankles on the field, so it's also cool I can do it on the game."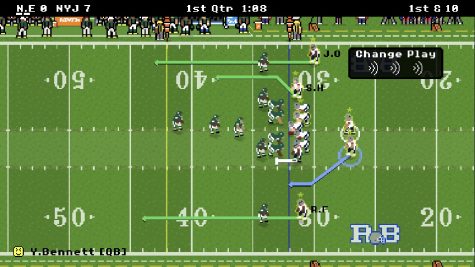 A lot of the students really liked the creativity of the plays, and the look of the game.
Sophomore Diego Faulkner talked about why he thinks it is so popular, stating, ''I feel it's so popular because of the attention it's getting all over social media and also the insane and funny story lines the game has.  Not only that but I'm able to play with the Packers which is my favorite team, that makes it 10 times better for me and also way more fun."
"
I also like it because I can make it so the Detroit Lions actually have a good team, unlike in real life and be able to win some games, unlike in real life. "
— Tanner McDonald
Some of those funny story lines include a player getting caught playing Retro Bowl in a team meeting, so that player got suspended from being able to play in the game.  As a Retro Bowl player, gamers wouldn't be able to play that particular player in their game.  
Sophomore Tanner McDonald has an interesting take on why he thinks Retro Bowl is so fun and popular, "It is so fun and popular because the controls are very easy so it doesn't take a rocket scientist to play it.   In other words, all ages can play it and have fun."
Retro Bowl is a great game and fun for all ages. It's everything a gamer can ask for virtual reality games. All 32 NFL teams are available to play with, and players can also build their own teams with different players throughout the years.  Having those freedoms are what players are really loving; this would be  perfect game to add to the Shadow Ridge Gaming Club.