This Years Best Halloween Party is Harryween
Halloween is known for candy, scary movies, and trick or treating, but this year it was also known for something different, Harry Styles concerts. When Styles' world tour, Love on Tour, was announced in 2019, he also announced a new event, Harryween which would consist of a fancy dress party on October 30th and 31st at Madison Square Garden in New York. Although the tour had its complications, re-scheduling all of the European and South American dates and pushing the United States dates back a year, the tour finally kicked off in Las Vegas, NV and the special Halloween event took place this Halloweekend.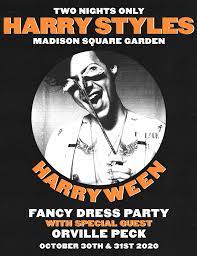 Styles is known for not only his hit songs but also his eccentric fashion. Whether it's a Gucci suit or a dress on the cover of  Vogue, Styles will rock it. And now he decided to give his fans a time and place to show their fashion abilities. Although Harryween is labeled a fancy dress party, over the top fashion has been at all of his tour dates. From Georgia to Texas Styles' fans showed up and showed out for each and every show.
"It was really fun seeing everyone dress up for the concert," sophomore Celeste Torres says. 
Harryween night 1 was a night to remember. Styles and his band walked out, surprising fans, in The Wizard of Oz costumes, and Styles was of course Dorothy Gale; the singer also did a cover of Somewhere Over the Rainbow. But of course, Styles wasn't the only one to go above and beyond, the fans did too. Fans showed up to Madison Square Garden in all different types of apparel, costumes ranging from just fancy dress to handmade costumes inspired by their favorite movies. The costumes did not only gain traction from other attendees of the show, but also many huge newspapers and magazines. The New York Times and Vogue are just two high-end companies that wrote pieces about the fashion of Harryween.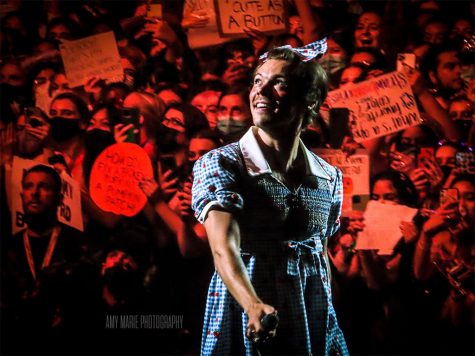 Night 2 of Harryween was just as special. Styles and his band rocked the stage in full Gucci clown costumes and clown makeup. Of course, the fans went over the top for night 2 as well. Ariana Grande, David Bowie, Selena, and Elton John were the few classical musicians who the fans dressed up as. Styles, also for the first time in 3 years, performed his beloved unreleased song Medicine, shocking fans. In addition to the performance of Medicine, he also did his own cover of Britney Spears' hit song Toxic, sending a wave of excitement through Madison Square Garden.  Both nights were so crazy that the first night, a boxing match happening below the arena was literally shaking, showing just how hype Styles' concerts are.
"It was exciting to see the concert actually happen, it was announced two years ago and it finally happened, it's kind of crazy but it was worth the wait," junior Marielle Tuazon says.