Zendaya: Fashion Icon Queen
From a young Disney star to a red-carpet queen, Zendaya, American singer and actress, has quickly become a style icon recognized all over the world through her amazing outfits, so it's not a surprise that CFDA (Council of Fashion Designers of America), will crown the -25 years old- superstar as the youngest-ever Fashion Icon recipient, at the 2021 CFDA Fashion Awards, this November 10th, for her global impact on fashion. 
"Without exception, the Euphoria and Dune star makes a style statement as soon as she steps out of her car," CFDA stated. "Take, for example, the all-white Tick Owens stunner she wore to the Dune premiere in London last night, or her plunging purple Versace dress at the 2021 BET Awards which paid homage to a 2003 Beyonce look. Then there was the  audacious gold-plated fresh-off-the-runway Loewe dress for the Women in Film Awards, and Tom Ford's purple metal breastplate at the 2020 Critics Choice Awards."
CFDA also recognized Zendaya for her brand "Daya," launched in 2016, which turned out to be a gender-fluid design and inclusive size range brand. 
Above her stylish looks, it's important to mention the actress's collaboration with the fashion giant Tommy Hilfiger in February and September 2019, which gave life to two "TOMMYXZENDAYA" capsule collections.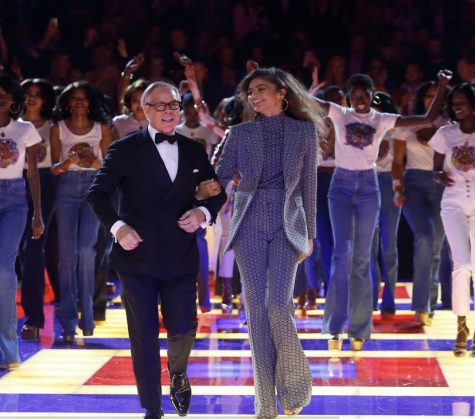 "She's already a fashion icon," declared Tommy Hilfiger on Zendaya in an interview with Women's Wear Daily. "But my prediction is that she'll be a global fashion icon. She's iconic in her own look and she changes like a chameleon, from event to event and place to place, and people are intrigued with that. They love seeing what she's going to wear next."
Actress, model, singer, trend icon, and there's more: Zendaya was chosen to be the new face of the Italian fashion houses Valentino, Bulgari, and the French perfumes and cosmetics house Lancôme.
"I chose her, for all that she represents," Pierpaolo Piccioli, Valentino's creative director stated in a interview. "Throughout an aesthetic choice, it is possible to represent a whole identity. This is the power of fashion and this is the power of human beings. I think it's fundamental to pass strong messages through the identity of a person and Zendaya perfectly represents the values that I want Valentino to stand for, such as equality and inclusivity."
Red-carpet style addicts have known it forever, but finally even CFDA recognized her for the style icon she is. Zendaya will be, once and for all, seated in the fashion Olympus in the company of Fashion Icon recipients such as Rihanna, Jennifer Lopez, Beyonce, Noemi Campbell, and Lady Gaga, more than others. The fashion world is looking forward to seeing her next outfit, which will be, as usual, stunning!