IU's Strawberry Moon
Korean singer and actress, IU, just released her new single "strawberry moon" on October 18th. This is her most recent song since her last comeback on March 25th. 
The song is slow with a magical, whimsical vibe, which is common for an IU song. The song takes listeners on a whimsical, romantic world as they listen to it. IU's voice is beautiful and soothing to listen to and her voice compliments the song very well.
The music video has a space fantasy aesthetic. The most prominent color in the music video is pink. A visual that especially stands out is a pink moon, made out of strawberry ice-cream. One of the most memorable scenes in the music video is IU and a man putting ice-cream from the moon onto their ice-cream cones.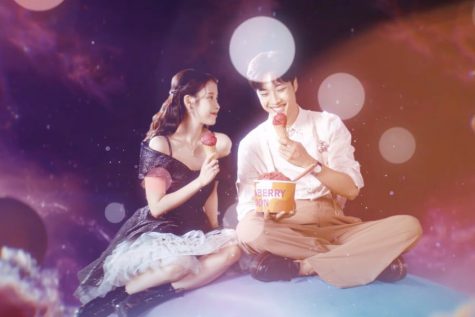 In an interview with "Elle" magazine, IU stated "I sought to make a very simple song. I hope it's a song that doesn't make you think too much or make you feel unhappy when they do.  I need this single to be enjoyed by enthusiasts in a very comfortable way."
In the same interview IU went on to explain that the comfort people feel from this song is the "ultimate valuable award that cannot be replaced by anything else."
The lyrics of "strawberry moon" describe the feeling of being in a dream-like love. The song emphasizes love during youth, and how it's amazing to live in the moment. "Over our youthful selves, "A big strawberry moon One scoop, Will you let me care you eh-oh, Up across the wind, Flying high feels so cool, How could life be more perfect ooh," (translations from Kgasa). 
IU is one of the most famous soloists in Korea, and every song she releases tops the charts. IU debuted 12 years ago, in 2008. Over the period of time in the industry, IU has gained many experiences as an artist. She has a down to earth attitude about fame and is respected throughout Korea. In a street interview with AsianBoss, a Korean citizen said that IU is thought of more as an "artist" instead of an "Idol." An idol is a singer who works within the mainstream Kpop industry, and is idolized. Often times the persona of an idol is heavily saturized, so IU being referred to as an artist demonstrated what sets her apart from the rest of the industry.
So far, "strawberry moon" has been met with praise, and fans look forward to future releases from IU.