Haunted Houses Ready to Haunt
With spooky season arriving, it is time to haunt. There are many haunted houses located all over Las Vegas but The Asylum and Hotel Fear are behind Meadows Mall. They opened October 1st and close October 31st. Thrill and excitement is what they are all about. 
"Opening weekend starts at $20 per person. Partial proceeds will also benefit the Paradise Ranch Foundation, a local charity that offers Horse Assisted Therapy," states Fox 5 News. 
For the low price of just $20 customers can have a good time and donate to a good cause.  
"Las Vegas' LARGEST Haunted Houses scaring Vegas since 1999! Nationally recognized, they are the only attractions with an interconnected story line. These attractions are so detailed they have been used as movie and video sets. The RUST Trilogy, parts of the Immortal Wars Sagas, video shorts and several music videos have all filmed here. This year they debut the completely rebuilt ASYLUM, recreated from the ground up with a new maze, new props, new scenes, new scares!! Be a part of its maiden voyage into FEAR," said Asylum-Hotel Fear Haunted House. 
The Asylum and Hotel Fear are considered the biggest and scariest Haunted Houses in Las Vegas, with their in depth detail and thrill factors.  The haunted houses are so widely known that they have been used in many well know movies and video productions.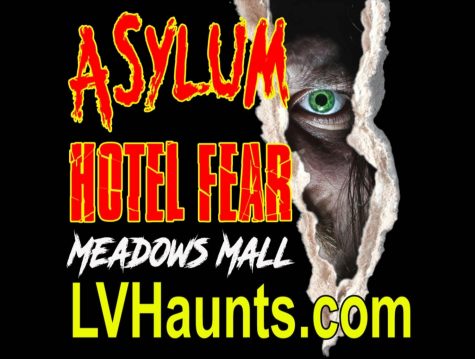 "ASYLUM & HOTEL FEAR are Las Vegas' only walk through Haunted Houses that were able to open this year on October 1. The haunt is the only one to create an approved Covid Protocol Plan that was accepted, allowing them to continue scaring Las Vegas with its implemented online timed ticketing system which limits the number of customers. The scary thrill, operated by volunteers, is located on 3 acres in the Meadows Mall Parking lot, with outdoor social distancing.  The benefit to each patron is anyone buying a ticket; will receive a VIP Experience," explains Vegas24Seven.com.  
Which haunted house sounds scarier?
Sorry, there was an error loading this poll.
With the new and improved safety protocols, ASYLUM and HOTEL FEAR are the only walk through haunted houses available for Las Vegas residents. It's an experience like no other with each customer receiving the VIP experience. 
Asylum and Hotel Fear have been scaring people for many years with new thrills. They are connected because of the Feoray's incident, which was caused from Mortimer relapsing after and experimental cure. To learn more about the connection between Asylum and Hotel Fear visit, https://www.lasvegashaunts.com/