"Hidden Cinema" Rooftop Venue in Las Vegas
Many new attractions and places have been added to Las Vegas recently, such as Area 15, Resorts World Las Vegas, and Allegiant Stadium, although something that has caught the eye of many is a new place called the "Hidden Cinema Rooftop Garden." This Hidden Cinema is on a rooftop that was turned into a small outdoor theater perfect for the fall and upcoming winter season.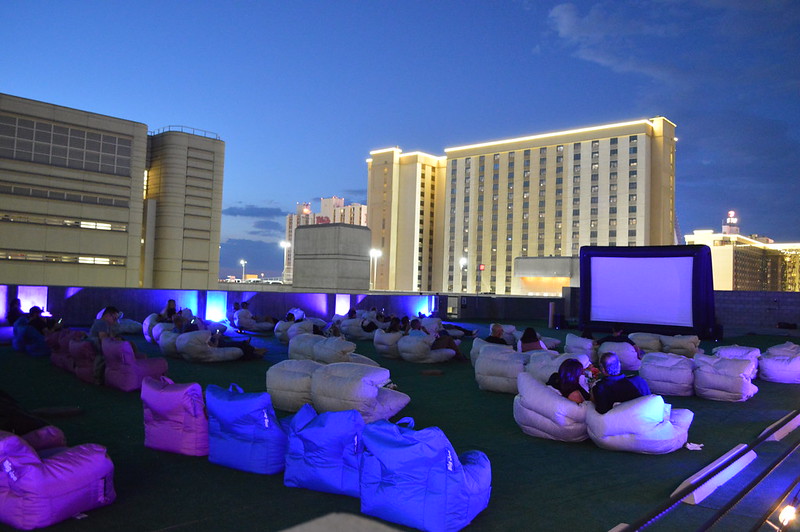 It is decorated with a 30-foot-wide movie screen, twinkling lights, and different seating customs available. Sadly, the cinema will only be here until December 18th, 2021 "We're here for a good time, not a long time," states the Hidden Cinema. This is what's known as a "pop-up" which refers to an unexpected, out-of-the-blue event that occurs for only a limited amount of time before it is gone.
They have a large variety of drinks on their menu including traditional Cola, Organic Orange Soda, traditional Rootbeer, both Still and Sparkling Water, and many other types of beverages. For snacks, they sell popcorn and candies such as Sourpatch Kids, Chocolates, etc…
Unlike other cinemas, guests are more than welcome to bring their own food! They show romantic classics, thrillers, comedies, and films catered for Halloween and Christmas.
Senior, Erika Gallardo, who is a student at Shadow Ridge, heard about this place and thought, "I would love to go check this place out and sit under the stars while watching a film when the weather is so nice."
They offer 3 seating options for the guests. The first is "The Picnic Blanket," the entry-level ticket allows the movie fans to watch their favorites on the ground, as one would in a picnic. Next, is the "Loveseat," which is a loveseat bean bag chair that can fit a group of two and enjoy sitting under the stars while watching a movie. Lastly, is the "Lounge Chair," the Lounge Chair is a 1.5ft wide comfortable lounging seating that is perfect for anyone to enjoy a movie.
The ticket pricing is as follows:
Individual Ticket with Picnic Blanket, $18.50
Individual Ticket with Lounge Floor Chair, $22.50
Couples Ticket with a Loveseat Bean Bag, $48.50
If anyone is interested in this immersive experience, the address is (21 S. Casino Center Blvd., Las Vegas, NV 89101) and future customers can buy tickets online here.