Atomic Range Announced to Open Near the STRAT
A new experience for Las Vegas tourists and locals alike has just been announced to the public. The Atomic Range is a golfing experience like never before that will be opening just north of the STRAT. The range will bring new technology to the sport and create an enhanced experience. The range is expected to be open to the public near the end of 2023.
Golden Entertainment, a gaming company, and Flite Golf are collaborating to create this massive, 92,000-square-foot, four-story building. The Atomic Range will also have a massive 12,000 square foot game room. This golfing facility will hold more than a hundred hitting ranges and is expected to cost around seventy million dollars to construct.
"If we're going to go into Vegas, we've got to do it right and do something unique," CEO and founder of Flite Golf John Vollbrect says.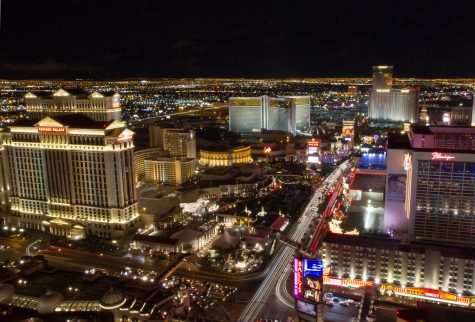 The reason that two massive companies are willing to spend so much money on a golfing complex has to do with golf's recent surge of popularity. Despite the pandemic, golfing popularity grew at an extreme rate over the year of 2020. According to the National Golf Foundation, since 2020, there has been an increase of 500,000 players and 61 million more rounds of golf were played in 2020 than 2019.
"We've seen a massive growth in golf over the past two years, and we think now is the time to launch this kind of experience," says Brad Goldberg, the Senior Vice President of Marketing for Golden Entertainment.
"
As we think about the transformation of The Strat, we think that this continues that transformation by offering an additional entertainment experience in the form of golf entertainment"
— Brad Goldberg
With the addition of the Atomic Range, the STRAT will also be renovated by Golden Entertainment, which obtained the STRAT for $100 million. Golden Entertainment has big plans for the Las Vegas Strip.
CFO and President of Golden Entertainment, Charles Protell says, "Partnering with Flite Golf to develop Atomic Range will allow us to utilize our excess real estate adjacent to the STRAT to create a unique driver of visitation to our property that continues the redevelopment of the North Strip and investment in the City of Las Vegas."
Atomic Range will provide veteran golfers and newcomers a technologically enhanced experience comparable to the likes of Topgolf. If  Atomic Range lives up to all the hype surrounding it, there is for sure going to be a new experience for locals and tourists to experience in Las Vegas and add more attractions to the downtown Strip. This will bring new entertainment as well as an enhanced experience for visiting golfers.