Filipino American History Month: Filled with Culture
October is a month dedicated to recognizing the culture of Filipino Americans and their intricate ways of life. Arriving on October 18th, 1587, Filipinos set foot onto what is now Morro Bay, California. For a better understanding, this was about 33 years before the Pilgrims arrived in the Americas. 
The month of October also holds the birthday of Larry Itliong, a Filipino labor activist who is also known by the name "Seven Fingers" because he lost three fingers in an incident at a cannery. He was first a migrant worker and then turned into a labor organizer who fought for better treatment and pay. Itliong helped direct the asparagus strike in 1948 and the Delano Grape Strike that lasted from 1965-1970. 
Filipino American History Month was first introduced in 1992 by the Filipino American National Historical Society and the U.S. Congress finally recognized it in 2009. Different cities, states, and counties now declare observance of the month in multiple ways. 
With Filipino American History Month still being new to many, there are some who still don't realize that there is a month that recognizes their culture. 
"No, I did not know it was Filipino American History Month [but] it's important for Filipinos to know their history," Savana Chalmers, junior, says.
Museums, exhibitions, and designers collectively showcase aspects of Filipino culture through clothing or even simple color schemes. Activities are also done in multiple locations across the nation to give Filipinos the opportunity to show themselves on the stage.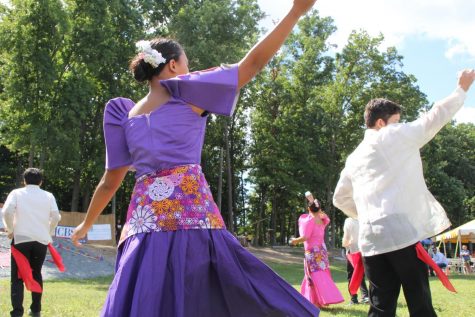 The Filipino youth are constantly inspired by Filipino celebrities. Being represented in mainstream media allows them to realize that they can be wonderful. Artists, singers, and even athletes bring a motivating message to all Filipinos. From a newfound joy or songs that explain one's feelings, Filipinos provide emphasis on emotion. 
"I would say Bruno Mars has helped shaped me with his uplifting music [in] making me a happy child," Chalmers tells.
"
Filipinos are so welcoming to everyone. Hospitality is a learned and common gesture we use to show our appreciation."
— Marielle Tuazon
Despite Filipino culture sometimes being shunned upon and seen as "too outlandish," the expression of the culture still stays strong. Since it is Filipino American History Month, people are encouraged to speak out on their experiences as Filipinos and how their culture has shaped them as people.
"An aspect of my culture that I'd like to share is having close family ties," Marielle Tuazon, junior, explains. "It made me realize how important it is to care and look out for one another."
Letting all people know of the amazing things that Filipinos have contributed to American culture and land helps them give into the idea of belonging. Just being represented and having a feeling of support can transform multiple mindsets.