They Don't Make Keys!
Key Club at Shadow Ridge High School is an all-inclusive, student-led organization that stretches internationally. It focuses on character building, community service, and the ability to lead. They meet on Thursdays after school and their meetings are filled with cheers as well as service hours. With that in mind, Key Club also gives rise to an unlimited amount of chances to socialize with others that love serving the community. 
"I love Key Club!" Ann Margaret De Guzman, a junior serving as the Key Club President, says, "It has given me so many wonderful opportunities to serve my community and to make new friends. I always look forward to the meetings and getting to see all of the members!"
The club has events like the Region Training Conference (RTC) and the Dancing Marathon. At both events, interactions occur between the schools in the same division as Shadow Ridge High School. Key Club works with different organizations like Love For Our Elders and Color A Smile to spread positivity to those that may be missing out on their daily fill of love.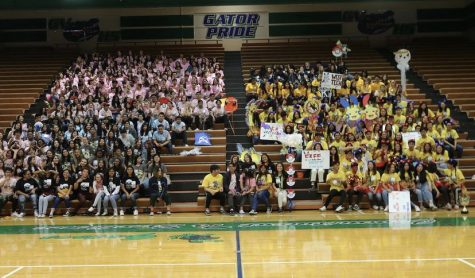 The student-led aspect of the club is seen through the few officers who share important information about the club and organize the meetings. The atmosphere gives off a comfortable feel and allows for other members to be themselves. 
"Key Club has taught me the importance of time management and it has helped me grow out of my comfort zone," Paulane Tulop, a junior serving as the Key Club Secretary, explains. "[Making] meeting material isn't exactly hard, but we do try planning things that'll interest all the members whilst still being fun."
Of course, there is no specific way to serve the community. Instead of giving assignments to each member to fill in a certain number of hours, the club shares new activities that fit a member's interests. Those interests can include social issues, making the earth a cleaner place, giving to the less fortunate and so much more!
Key Club also recognizes a Member of the Week as they continually support the club's efforts to serve the community. Whether it be from supporting the club on social media or participating in multiple events throughout the week, being recognized is a definite outcome. 
"It's really fun," JD Coching, a junior who was named as Member of the Week, tells. "I love the energy that people bring and you are surrounded by a very fun group of people. It's a great safe place."
Its name is often misunderstood for a club that just creates keys as a bonding project. Instead, though, it is truly the "key" to connecting with people and unleashing one's full potential as a leader, contributor, or even just being a friend to others.