Festival Of a Lifetime
Life Is Beautiful is a festival held in Downtown Las Vegas. The festival was September 17-19th and the event was able to successfully happen this year because the people who attended, and the performers, followed the protocols set in place to keep everyone safe. Many people were excited for the festival since it couldn't happen in 2020. It was a way to get people together to have some fun and see their favorite artists all in one place. Erika Martinez, a student teacher at Shadow Ridge High Schoo has attended Life Is Beautiful four times and she still enjoys the fun and amazing vibe people have at the festival. Jaydon Phelps, a senior at Shadow Ridge High School, also attended the music festival. 
There were many headliners for this festival this year and many people were excited to see them perform again after COVID.
"Of course, the music remains the fest's main draw, this year's headliners included psych-pop space cases Tame Impala, punk snot rockets Green Day and of-the-moment singer-songwriter Billie Eilish, with a deep undercard ranging from razor-tongued rapper Megan Thee Stallion to guitar heroine St. Vincent to EDM stadium-filler Illenium," states Las Vegas Review Journal.
The headliners for this year's Life Is Beautiful festival were all artists who have been around for a while and some are new to the industry throughout the last few years, which got people excited to buy tickets, which sold-out in less than 30 minutes. 
"
A name like 'Life is Beautiful' comes with great responsibility. Because Life is Beautiful is more than just a festival, it's a way of moving through the world."
— Life Is Beautiful Website
There were four different types of tickets for the festival that anyone could purchase. The tickets included General Admission, VIP, VIP+, and All-In. General admission tickets started at $159 for 1 day and $340 for 3 days, VIP tickets started at $635 for 3 days, VIP+ tickets started at $1,420, All-In tickets started at $2,895. Even though the tickets could get a little pricey, they definitely were worth it for people who really enjoy good music, food, and good people. 
"The ticket prices are definitely worth it. It provides a weekend to let everything else go and enjoy music, art, and interaction with others. There is nothing but love at that festival and I am definitely glad I've been going, and plan on continuing to go for as long as possible," states Phelps.
Some may think that prices are very high, but the reward that participants receive is far greater. The relaxation and memories that everyone gets is a lifetime full of memories.
"Billie Eilish's performance was definitely the best part of the festival for me – I had spent all weekend anticipating it, and she did not disappoint. This was my fourth time going to Life Is Beautiful, and her set was one of – if not the best — set I have seen at the festival," said Martinez.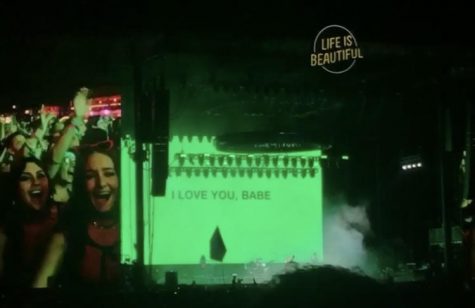 Many people had been anticipating Eilishs' set. With a large turnout, the setlist was better than festival goers anticipated and they were very pleased. 
Overall, the festival is truly an experience of a lifetime. Everyone who goes will have a blast. The food, music, and people are all amazing, and all festival goers are guaranteed to have a good time.