Taylor Swift's TikTok Debut
Singer, songwriter, and 11 time Grammy winner, Taylor Swift, has finally joined TikTok and fans throughout the world have celebrated the star's joining of the app, as well as the things Swift has done since then.
Taylor Swift has been a star ever since 2006 with the release of her debut song Tim McGraw. Although that was 15 years ago, Swift's fame never decreased. In 2019, Swift's ex-manager Scooter Braun acquired the masters to her first six studio albums. Swift said that she had tried to buy the masters for years, but her old record label, Big Red Machine, did not offer fair conditions. Because she didn't own the masters, Swift could not perform her old songs or use the songs in her documentary. So, in 2019 she announced that she would be re-recording these albums in order to gain the masters, which made fans extremely happy and allowed her acquire even more traction.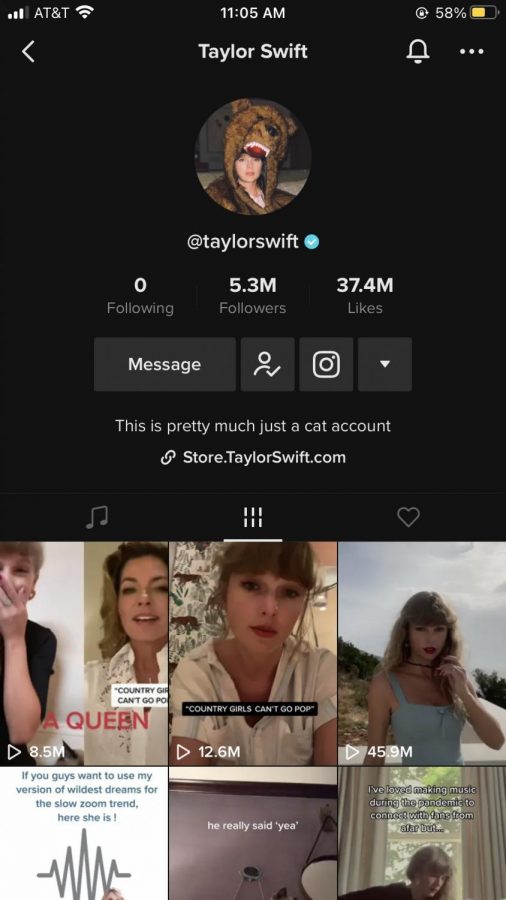 With 9 studio albums, 5 tours, and 324 awards for her music, Swift has gained a very powerful group of fans, along with an unimaginable amount of fame. Swift has always interacted with fans on her social media since the beginning of her career, but, when she joined the video sharing app TikTok, fans went crazy. 
Sophomore, Bella Madsen said "When she first joined TikTok I honestly thought it was fake…I was super excited when she joined because that meant more Taylor content."
Swift joined the app on August 23rd and has been posting videos of her own ever since. Her first video was a transition between her different eras, dressing up in her signature red lipstick in anticipation of her next re-recording Red (Taylor's Version). Indy100 reports that within 24 hours of her joining the app, she gained a whopping 1.5 million followers. 
Celeste Torres, sophomore, said "I was super excited because it meant she would hopefully be more active with fans and she would be on a new platform to connect with us."
The song Wildest Dreams, from her 5th studio album 1989 has been trending on TikTok. People sang the catchy chorus of the song with TikTok's Slow Zoom filter applied, making it a viral trend on the app. To surprise fans, Swift released Wildest Dreams (Taylors Version).
"
Hi! Saw you guys got Wildest Dreams trending on TikTok, thought you should have my version."
— Taylor Swift
Official Charts stated that the song has already reached number 22 on the US charts, already peaking higher than the song's original release in 2015, which peaked at number 40. Swift even joined in on the TikTok trend, but this time, to Wildest Dreams (Taylors Version).
Fans were so excited about the release of the song. Some are confused as to why she'd release the song though she's already set a date for Red (Taylors Version) and some are creating conspiracies, but, the reaction was overwhelmingly positive and made many fans happy  who were excited that they would be able to feel the nostalgia of when the original song was released.
"When I saw that she had posted Wildest Dreams on TikTok I again thought it was fake, after realizing it was real, I screamed," said Madsen.