Mustang Maniacs
With the start of this school year, new clubs are beginning to form in order to meet the needs of Shadow's diverse population. Although some students may think that Mustang Maniacs formed this year, it just so happens to be a reemergence of a club from the past. At the first meeting, the advisors, Mrs. Guthrie and Mr. Nelson, reminisced in their memories of the maniacs from years ago. The Mustang Maniacs of the past essentially went to all of the sports games they could to boost the spirits of Shadow Ridge teams. They used the most extreme and extravagant methods of cheering that they could to keep things exciting and fun for the crowd. Although the club disappeared several years ago, the concept for the new maniacs is the same. They'll do their best to support Shadow athletics and be a motivating hype squad.
The club is still just getting started, but they have big plans for the future. It appears that Guthrie will send out a weekly form to the maniacs with the events for the week and members will indicate which games and matches they will be able to attend.
"
The purpose of Mustang Maniacs is to show extra love and support to our teams and their players. We want to show students how important school spirit is and give them many memories to look back on."
— Ava Garcia
Nelson explained, "When you show school spirit it gives you a sense of belonging to something and it helps you have pride in Shadow Ridge."
Many kids have quickly flocked to the club and decided it's something they would be interested in. Ava Garcia, junior, and Dennis Speaks, senior, are both thrilled at the opportunity to support their school.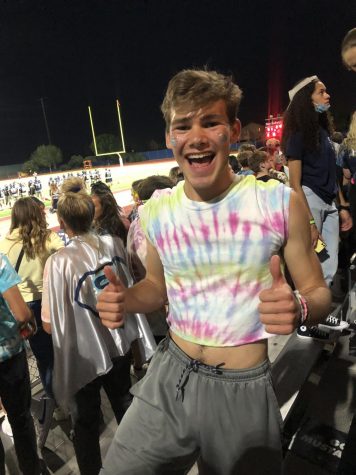 "This year, I'm super excited to cheer on our teams and give our players confidence that their school has their backs. I'm excited for our players to realize that they have support and people who want to watch them do something they love," Garcia shared. Speaks added, "I'm excited to be able to hype up the different sports for the school. I love going to the football games, but I wish we had hype and excitement like that at other events as well. I can't wait to get creative and make signs and wear face and body paint for all the different games."
Students like Garcia love to participate and be a part of the club, but with different opportunities to show spirit constantly arising, students must be connected and be able to contact each other. At the moment, the maniacs put all their information out through their Instagram page '@srhs_mustang_maniacs'.
Elisa Esparza, junior, runs the account and has played a big role in getting the club started. She said, "We're always putting stuff out on our Instagram account, since most students have access to social media. It's way easier to communicate because people share it around and more and more people can view it. It's really simple to make a post and quickly get the word out."
The Mustang Maniacs are happily taking any new members who are willing to support the school and show off their Shadow spirit and will be at as many upcoming athletics events as they can.