Nevada Promise Scholarship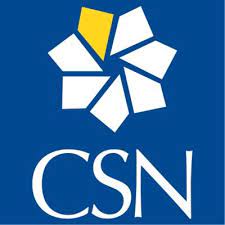 Mrs. Lisa Hebb, counselor, encourages all students to apply for the Nevada Promise Scholarship. The application is due October, 31 2021 at midnight. Students can apply at csn.edu/promise. This scholarship is also known as the Last Dollar for CSN, Great Basin, and Western Nevada College. This scholarship is a great opportunity for all eligible students, because it is easy, free money.
"The Nevada Promise Scholarship is a unique scholarship established by the Nevada Legislature for Nevada high school graduates to attend community college. As a last-dollar scholarship, the Nevada Promise Scholarship can cover up to three years of tuition and other mandatory fees not covered by other gift aid," says csn.edu
The Last Dollar will provide tuition for up to 3 years if students are granted the scholarship. The Nevada Promise Scholarship covers registration fees and mandatory fees for the Fall, Winter, and Spring semesters for eligible students. There are very few steps that need to be followed in order to apply. These steps include applying online, completing an online training, file FAFSA, participate in community service, and go to a mentor meeting. Last dollar is first come first serve, so if 3 years of tuition paid for is appealing, then students should sign up quickly.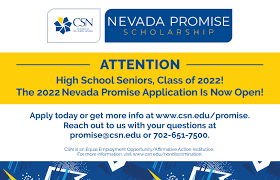 "CSN has a variety of degree types, such as a trade or bachelor's degree. CSN is a more affordable option and allows for students to use that money in other areas of their lives," states Hebb. 
Whether students want to go to school for a trade or a degree, CSN is affordable and offers a lot of versatile options. There is no set limit for the amount of people who can receive the scholarship, it goes until funding runs out. 
"In the event that sufficient funds are not available to all eligible students, scholarships will be awarded based on the following priorities. First, students who have received the award in previous academic years, on a first-come, first-served basis, based on the FAFSA completion date. Second, students who would be receiving the award for the first time on a first-come, first-served basis," explains csn.edu. 
Nevada Promise Scholarship is an extremely easy scholarship to obtain. By following 9 easy steps, any new college student, or any returning CSN, Great Basin, or Western Nevada College can get free money for their studies. All applicants have to do is fill out their application and FAFSA on time, and they have a very good chance of receiving the scholarship.