Abney Finishes 1st in Race for Senior Class Prez
Senior Class President Alexis Abney is prepared to make this the most exciting and fun year yet for the Class of 2022. Abney has been in Student Council since she began high school and has consistently displayed extreme school spirit. Abney has not only been an important member of the student council, she is also a student-athlete who is a member of both the varsity cross country girls and the varsity track and field teams. She looks forward to another well-rounded year of balancing her school with her athletics as well as her work. Although Abney is a senior and is preparing to move on with her life, she isn't yet sure exactly what she wants to do. She knows she wants to serve a mission for the Church of Jesus Christ of Latter Day Saints and go to BYU, and then she'll figure the rest out from there. For now though, she's excited for her last year as a member of the Shadow Ridge community that she cares so much about.
Abney has big aspirations for the school year, especially after not being able to enjoy many of the usual Mustang traditions in the confusing years prior. She plans to make it a great year for everybody and boost school spirit as much as possible.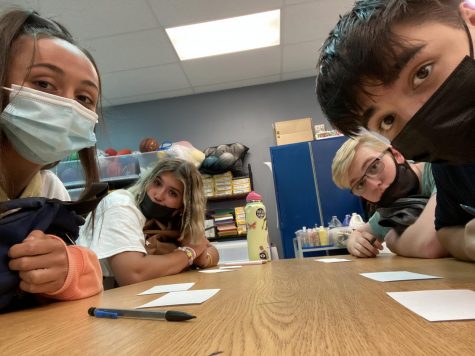 "Where do I even start! I'm so excited to be able to plan new events and revamp our old traditions. With a new advisor, we have different insights and hope to be able to mix some new traditions with the old ones and have some amazing activities this year," Abney shared.
The new advisor, Ms. Dadosky also looks forward to a successful new year, along with the rest of the Student Council. Hailey Morrow, Student Body First Vice President, thinks Abney displays important Mustang qualities that are needed in a Senior Class President.
Morrow explained, "Alexis is a great leader who embodies characteristics such as kindness, initiative, and unity, and will help the senior class have the best year of their lives. She's going to do great!" Dadosky added, "I think Alexis is going to make a great Senior Class President because she knows what Shadow Ridge needs. She has been here in 'normal' times and is coming back this year and knows what Shadow kids want. She has made great decisions and is a leader in class within Student Council. I think as the year goes on, she will be able to represent the students of the senior class."
"
This year, I'm looking forward to finally being back in school, having sports, clubs, and dances, and improving participation so kids want to be at school and feel welcome there."
— Alexis Abney
StuCo might be excited for a fun year, but Abney also has other important ways of dedicating to the school. She was a part of the girls track team that won state last year, and this year, her girls cross country team has a shot as well.
"This year, I'm really excited for the possibility of our team doing well at regionals and state. We have an amazing team, we're all dedicated and hardworking, and, for most of us, it's our last year so we're really giving it our all," Abney commented.
Everything can't always be sunshine and rainbows though, as there will be difficulties this year, especially with so much pressure on her.
"The biggest struggle this year will be finding ways to hold events while following COVID guidelines and regulations. Mostly, we'll have to learn how to be flexible while still being successful with events and making students want to attend them." She continued, "I enjoy being able to have influence on the senior class and be in direct communication with our senior class advisors and the rest of the senior council to decide what activities and events are best specifically for the senior class, as well as help the newer members with helpful insight and suggestions."