How to Stay Fit When T-E-A-M Becomes M-E
Covid-19 hit the world quickly and efficiently. The lives of billions across the world were affected, from not being able to go to work, the school year getting shut down early, or simply contracting the virus. The world seemed to bounce back though, with social distancing rules being enforced out in public. People are going back to work, school is now all virtual in Las Vegas, and the amount of new cases has decreased in September. But one question still looms in the dust, "What is going to happen with high school sports?" All fall and winter sports have been postponed until 2021, with hopes that the virus will have been controlled and it will be safe to play for players, coaches, and families at home. Coaches have encouraged their athletes to stay active and to prepare themselves for a possibly condensed season.
Dion Washington, senior, plays football and runs track for Shadow Ridge, is hopeful for a season this spring. "You know, I honestly do believe that we will be able to return to sports. With the way that all of the pros and some collegiate sports are looking, I think that we will be just fine."
Professional sports across America have resumed, with the NBA playing in a "bubble" located at Disneyworld in Florida. Major League Baseball is holding games with no fans in attendance, and the National Football League has left it up to the teams to decide whether to have no fans or limited fans inside of their stadiums for this season.
Washington continues, "Once quarantine started and everything was shut down, I had to depend on myself to make sure I stayed in shape. I would do push-ups, sit-ups, and sprints every morning and night, with body workouts throughout the day. But now that gyms and training facilities have opened, that is what I do daily."
Washington is apart of Phase 1 Sports, an athlete development facility in Las Vegas. Training there has opened up a new level in Washington's game, elevating his drive and determination towards being the best athlete that he could possibly be.
Mackenzie Murdoch, senior, is a three-sport athlete at The Ridge, partaking in football, flag football, and lacrosse.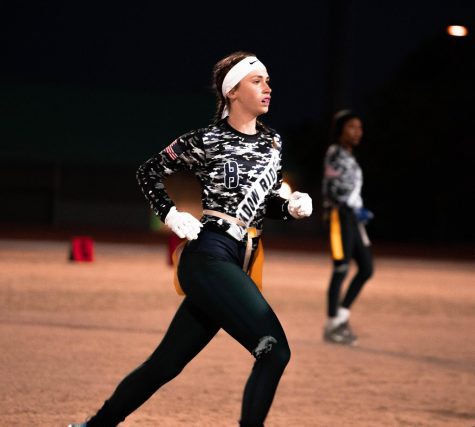 Murdoch states, "I really do wish to have high school sports, not just because I would like to have one last year, but because of my teammates. There are a lot of young men and women whose entire future depends on their sport, and it would hurt my heart to see all of the hard work and dedication that led up to this year get thrown to waste. My senior football boys have been clocked in since the very last game of last year, and I know that if given the chance, they will shine brightly. I am staying faithful, though, and I train every morning at my local park, working on my footwork and explosiveness every morning, I also go to LVAC (Las Vegas Athletic Center) and swim for conditioning throughout the day or once the sun goes down."
It is going to be tough for multi-sport athletes to compete in each sport at a high level, with the sports seasons starting right after each other. The NIAA released a tentative sports schedule for all sports this year; the proposal has winter sports starting January 2nd and ending February 20th; fall sports to start on February 20th and ending on April 10th and spring sports to start on April 3rd and concluding on May 22nd.