The One and Only Wizard of the Website
This year has been a difficult and strenuous year for many, but in the cases of particular students, it has been a time to shine. The Lariat newspaper, also known as the backbone of Shadow Ridge High School, was pushed into becoming an online newspaper this year rather than a physical print. Although Mrs. Paige Smith, the journalism teacher, is highly capable of learning and adapting to new things such as a new way of running the paper, one student stepped up to take a ton of the weight off of the backs of Smith and the journalism students. Claro Bacaltos, senior, has shown extreme journalism prowess and impressive skills when it comes to formatting and running the newspaper as a website. Although Bacaltos has set a strong foundation for the Lariat, he will soon be moving onto another stage of his life, as he graduates this year. He wants to visit his friends in the Philippines, where he's from, one last time before he starts college. He plans to attend CSN for nursing for a 2-year degree, go to UNLV for a bachelor's degree in either surgery or pediatric nursing, and then he will decide where to go from there.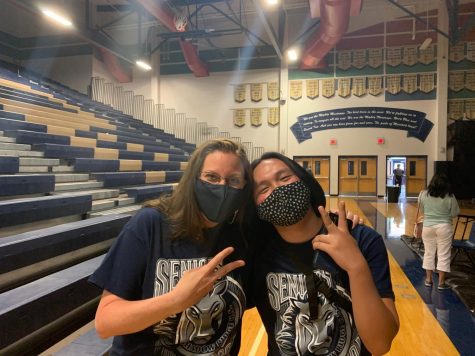 Bacaltos has worked wonders for the journalism program and consistently persists in trying out new things for the newspaper. He's put countless amounts of hours into it, attended several webinars to teach him new features to help with the site, and taken on various difficult projects to improve The Lariat.
Smith explained, "The entire layout of the website is thanks to Lao; not only did he figure out how to make the website visually appealing, he figured out how to add polls, embed apps, format grid stories, and link the website to Shadow's social media accounts. His contributions have been invaluable and I will definitely miss having him to depend on."
Bacaltos claims that his brother, who took an IT course, did help him get the hang of his work with the website at the beginning, but there were loads of things he had to learn and discover for himself through trial and error.
Abigail Davis, junior and another one of the editors at the Lariat, shared, "Lao does a lot of the behind the scenes work on The Lariat. He formats each section of the website and makes it visually pleasing and easy to navigate. If we have any questions about how to do something on the website, all journalism students know to ask Lao."
Not only do the students in journalism go to Bacaltos when they are in need of help, Bacaltos actually spent a couple class periods, at the request of Smith, passing on his website wisdom to the future editors of The Lariat.
"
There wasn't one day where he let me down"
— Mrs. Smith
Kale Nelson, junior and editor in chief of The Lariat, elaborated, "I've been an editor on The Lariat staff for three years now, and I don't think I've ever seen anybody, save Mrs. Smith herself, quite as devoted to the newspaper as Lao. You can tell he really puts a lot of time and effort into this and actually cares about what he's doing. I know he's definitely made an indescribable difference for me and the other journalism students this year, and I only hope to carry on his legacy and continue his vision for the website in the future."
Without Bacaltos, this first year of working with an online Lariat could never have gone as smoothly as it did. He is greatly appreciated by all those on the journalism staff and his name will be remembered and passed down by generations of Lariat journalists to come.
The entire Lariat staff would like to thank Lao for his contributions and we wish him luck in all of this future endeavors.