Walt Disney World, Universal Studios to End Temp Checks For Guests
Walt Disney World and Universal Studios recently announced that they're going to end the requirement of guests to get temperature checks when they attend the parks. With many venues reopening and mask restrictions being relaxed or lifted, theme parks such as Disney World and Universal Studios are following suit when it comes to loosening restrictions for the public. Since many parents were running out of options when it came to entertaining their kids, theme parks were the next best thing. Even though guests still have to wear masks when visiting, the end of temperature checks is one less thing they have to worry about.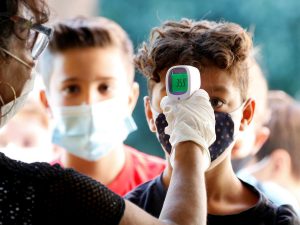 "The theme parks and related resorts will end temperature screenings for cast members on May 8 and for visiting guests on May 16, according to an announcement on Disney's website. The change comes as Florida begins to make adjustments to its local coronavirus regulations," states NBCNews.
Florida, along with much of the country, is one of the many states loosening their Covid restrictions and allowing their citizens to go out longer and do more activities. With Biden's recent announcement that citizens don't have to wear their masks outside as long as they've been fully vaccinated, many people have more freedom to do the things they want. Even though temperature checks have been cut, social distancing and mask wearing is still required. 
"Tickets still need to be bought in advance via the reservation system and face coverings are required for cast members and all guests aged 2 years old and over. Most of Disney World's parks are now open, although much of May is already booked out," says CNN.
So for those looking to take their kids to Walt Disney World or Universal Studios, it's still important to book tickets early and plan accordingly. With restrictions being lifted or ended altogether, theme parks and other venues will be extremely appealing to people all over the country. 
"Despite this, guests can still dine in at their favorite restaurants and enjoy the rides, though character meet-and-greets have been replaced by socially distanced character processions. A new "Star Wars"-themed hotel, "Star Wars: Galactic Starcruiser," is set to open in the park's Epcot Resort Area in 2022, offering two-day, two-night, all-immersive vacation. This week, on May 4 — also known as "Star Wars Day" — Disney unveiled a real-life lightsaber that guests will be able to see in action at the new attraction," states CNN.
Along with many attractions opening and new ones being presented, guests have a lot to look forward to this summer. So by being safe and continuing to social distance and wear masks, other venues and events will be able to open the same way and further entertain all its guests.