Goodbye Gibo
Shadow Ridge first opened its doors to students 18 years ago in 2003, the year Cheeta Girls was fresh on Disney Channel, low rise jeans were all the rage, and many members of Shadow's current senior class were born. A lot has changed in the past 18 years but something that has remained the same is Mrs. Gibo's smiling face at Shadow Ridge. 
Sadly, this year marks the end of Mrs. Gibo's time at Shadow. She will be moving to a new school where she will serve as the magnet coordinator and stuco advisor. Mrs. Gibo was involved in many things during her time at Shadow Ridge including being a P.E. teacher and head of the Physical Education Department, soccer coach, and most famously, the Student Council advisor.
"I have loved every opportunity at Shadow, but StuCo provided the opportunity to have an impact on the school as a whole. I never imagined how much we could do and watching the school evolve into a place that I believe students wanted to call home is just amazing," Mrs. Gibo states.
Mrs. Gibo is one of the few remaining members of Shadow Ridges's original staff who have been at Shadow since the school first opened. Mrs. Gibo has seen Shadow Ridge grow and has played a huge role in making Shadow the amazing place it is today. She used to joke with the new principals and tell them that she came with the building. Mrs. Gibo will always be a part of the Mustang family and plans on returning regularly to show her support.
"I never thought I would [leave Shadow Ridge], in my mind, I was going to retire from Shadow," Mrs. Gibo explains. "I will say this, it was not an easy decision. The opportunity arose that would provide me with the career growth and is conducive to more quality time with my family. I also felt as if I had given so much of my time, my passion, my heart to Shadow, and I did not want to look back and wish I had spent more time with my daughters."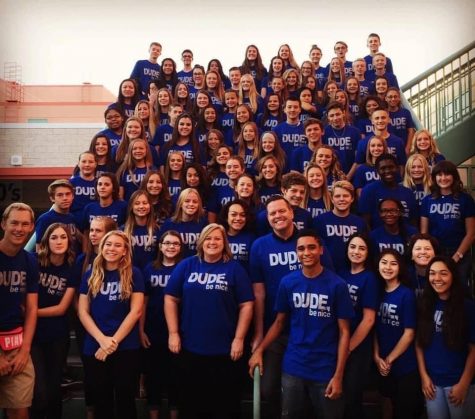 Although Shadow Ridge is sad to lose such a vital member of the staff, Mrs. Gibo's students and coworkers are glad that they were able to know and be affected by her. Ellie Johnson was only able to be in her class for two years but said that Mrs. Gibo was her most favorite teacher. On Mckayla Gunnell's first day of freshman year, Mrs. Gibo remembered her name after only meeting her once which stuck with Gunnell and meant a lot to her. Ellie Reese loved how Mrs. Gibo was so close and seemed to be more of a friend than a teacher. Isabella Stosich shares that Mrs. Gibos is an extremely chill person and that she is always up to do anything (aside from riding a mechanical bull). Alexis Abney loved how Mrs.Gibo was dedicated to her student's success and always there to help.
"Mrs. Gibo is amazing!" Abney shares. "She does so much behind the scenes work that no one realizes even needs to be done. She's always willing to help and guide you in the right path and she's so extremely patient and honestly the coolest teacher ever."
As the Student Council Advisor, Mrs. Gibo has had her hand in almost every activity that Shadow Ridge puts on. Student Council is responsible for almost all of the student body's favorite events, including school dances like Homecoming and all of Homecoming week, spirit days, lunch activities, assemblies, and all of the virtual spirit days and activities that have been done over the past year. Although the members of StuCo do a lot of the work, Mrs. Gibo can always be seen running around setting things up and lending a helping hand to the StuCo kids. One of Mrs. Gibo's favorite memories of Shadow is the second time the Homecoming Parade was held, which has become a favorite among the Mustang community.
"I still remember the feeling of joy and pride walking out to see our community line the streets waiting for the parade that we created," Mrs. Gibo explains. "I felt that we had finally done it, we created an event that brought together our whole community. My goal has always been for every single student to feel like they belong and even though it was just the tip of the iceberg I felt a shift in our culture."
Mrs. Gibo loves her students and it is very clear that they love her back. She has greatly enjoyed her time with all of the students and appreciates all that they have done to help her grow. She leaves her students with this parting message:
"I am so grateful. I consider myself lucky to work with all of you, even those of you who challenged my patience and make me want to bring out the super sarcasm. You have helped me become a better teacher and advisor. I have enjoyed the laughter, the stress, the craziness, and the memories. I can not wait to see all of the amazing things you do. I will always be here if you need me, just throw up the Gibo Signal!"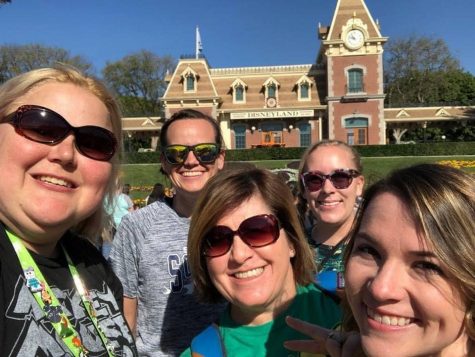 The staff at Shadow Ridge have also tremendously helped Mrs. Gibo to reach her full Gibo power. She loves all of the friends and family she has made from the staff and is indebted to their unwavering support.
To the wonderful staff, Mrs. Gibo says, "Thanks for supporting me and for dealing with the interruptions, the good, the bad, and the just a hair past insane ideas. I hope I am half as lucky to work with such kind, supportive, caring, and hilarious individuals at my new school. Many of you have become lifelong friends and some like family. I am forever a Mustang!"
The Lariat and all of Shadow Ridge would like to thank Mrs. Gibo for all that she has done for Shadow Ridge and the incredible impact she made on the school. She has left big shoes to fill for her successor and all of Shadow will forever be in her debt. 
"I am ecstatic to have worked closely with Gibo during our time together at Shadow Ridge," says Assistant Principal Missy Shipp. "Mrs. Gibo has been instrumental in the spirit of Shadow Ridge. She is driven by her strong sense of pride and her passion for our school and community. Her communication skills, genuine charm, and energy have made the last seven years working with her beyond enjoyable. She is leaving behind a legacy at Shadow Ridge and her presence will be greatly missed. There is only ONE Gibo, and you my sweet friend are irreplaceable!"