Population Growth at Lowest Since Great Depression
Over the past year and a half, there have been many challenges and hardships that have presented themselves to multiple people. One of the main concerns and hardships that young couples and mothers have faced over the course of 2020 was the decision to continue to have kids. The amount of women having kids has been steadily decreasing over the past couple years, but 2020 made hundreds of thousands of couples rethink having a baby.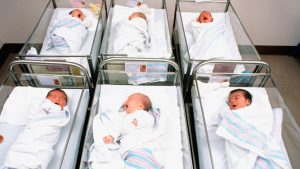 "The first batch of once-a-decade data from the US Census Bureau shows lower population growth in the United States than at any other time since the count began in 1790, except for the Great Depression-era 1930s," states Aljazeera.
Since there have been more deaths and less births in the past year, this could pose a problem to the future after Covid. Even though there are other factors that could affect a couple's choice for holding off from having kids, the population decrease may have different causes for different people. 
"Altogether, the U.S. population rose to 331,449,281 last year, the Census Bureau said Monday, a 7.4% increase over the previous decade that was the second slowest ever. Experts say that paltry pace reflects the combination of an aging population, slowing immigration and the scars of the Great Recession more than a decade ago, which led many young adults to delay marriage and families," says AP News.
Along with an aging population and the effects of the Great Recession still being seen today, a population decrease can also have other longer lasting effects on the general public. 
According to government.nl, the effects of a lower population include "fewer schools, due to there being fewer children, a drop in house prices because more homes are unoccupied, fewer new homes being built, less demand for rented accommodation, fewer care facilities, less turnover for shopkeepers and businesses, and fewer sports facilities."
Even though there may be multiple causes for a population decrease and reasons for why people are slowing down having kids, a population decrease is something to reflect on to recognize our flaws. 
"The overall numbers confirm what demographers have long warned — that the country's growth is stalling. Many had expected growth to come in even below the 1930s levels given the long hangover of the Great Recession and the drying up of immigration, which came to a virtual halt during last year's pandemic. William Frey, a demographer at the Brookings Institution in Washington, D.C., warned that even a recovering economy may not change the trend with the population aging rapidly and immigration contentious. "Unlike the Great Depression, it's part of a process where we're likely to keep having slow growth," Frey said," notes AP News.