Arthur Anderson: Making a Splash on the Swim Team
Junior Arthur Anderson decided to join the Shadow Ridge Swim Team during his sophomore year because he wanted to surpass his older brother who competed on the swim team in years prior. His goal for the season is to beat his brother's times and qualify for regionals in multiple events.
Joining the swim team has given Anderson the opportunity to meet new people and grow closer to them. Being together almost every day of the week has led to him making quick friends with some of the newer swimmers and the opportunity to deepen his friendships with returning swimmers. His favorite thing about the swim team is that even though some of them may have only been on the swim team for a short while, everyone has still gotten really close.
"
Joining the swim team has impacted my high school experience by meeting new people…My favorite thing about being on the swim team is the people and how we are all so close even though some of us haven't known each other for that long,"
— Arthur Anderson
Anderson's fondest memory of being on the swim team is from last swim season during his sophomore year when the swimmers were allowed to have swim dinners pre-covid. Over the years it has been a tradition for the swim team to hold a pasta dinner at a swimmer's house every Friday before a meet to bond with teammates and carb up before the races. He enjoyed hanging out with the swimmers who have since graduated and spending time with the team playing Super Smash Bros and ping pong.
Not only has Anderson gained new friendships from the swim team, but he has also gained a driving force behind him motivating him to improve and push himself. With the team being made up of a wide variety of swimmers with different specialties and skill levels, there is constantly someone there to set a higher goal for him to reach.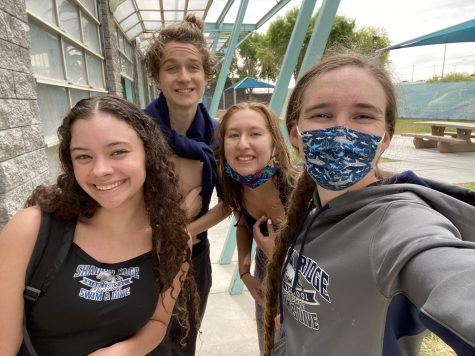 "I have been impacted by the swimmers around me to keep pushing myself and to keep bettering my times and endurance during practices and meets," Anderson explains.
Anderson has been able to improve his physical state, get in better shape, and put on more muscle thanks to swim. He is constantly improving and setting higher goals for himself as he becomes a better swimmer. Just last meet he dropped 10 seconds off of his 100-yard freestyle. The wonderful Shadow Ridge swim coaches have had a hand in this by helping Anderson to better his technique as it needed improvement from the previous season being cut short due to covid.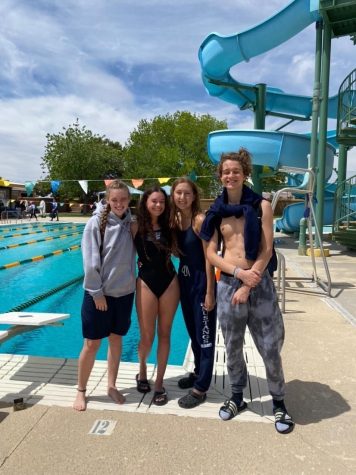 "The coaches have helped me a lot with technique as my technique wasn't as good as before covid hit and ended the season early," explains Anderson.
With only one more meet left in the season and regional meets coming up, Anderson hopes to qualify for more events and get his varsity letter. In hoping for a longer and stronger season next year, Anderson has set the bar high for himself and aims to qualify for regionals in all of the events.
"My goals for the rest of the season is to qualify for at least one event and get my letter, and for next season I want to qualify for almost every if not all of the events."