This Justin
Video Courtesy of: Justin Lewis
Going into this final stretch of the year, it has been a huge and unexpected surprise for so many athletes to be able to return to their sports. One of these players, Justin Lewis, junior, of the Shadow Ridge Varsity Men's Volleyball Team, gladly returned to the court at the first opportunity he got. Lewis, an amazing team player, is a defensive specialist and libero on the team. He puts in a lot of work in practice and does everything he can to help encourage and improve the team in his own way.
This year, although his expectations were low at the beginning, the team has already far exceeded his expectations and he's glad his sport is finally back. As a matter of fact Lewis even expects the team to be a potential contender for the state championship.
"My favorite part of volleyball is, overall, being able to play again and having fun with my teammates," Lewis explained.
However, for Lewis, it can't all just be enjoying the moment, because he also has to continue to keep his head in the game.
"The hardest part of volleyball is keeping the mental side in check and staying calm in key moments." Lewis continued, "The hardest part of senior year will be trying to balance my academics with sports and make key decisions for my future."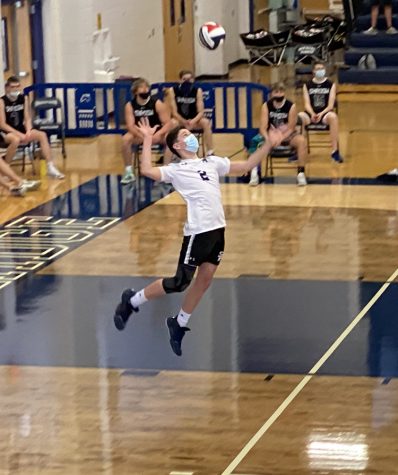 Although Lewis doesn't yet have a complete plan, he does intend to play volleyball in college if possible, and apply for scholarships to do so. As a junior, Lewis still has some time to figure things out. On top of that, though, Lewis also gets to come back for one more year of volleyball after this.
Lewis stated, "Senior year, I am most excited to be able to compete against and play with friends I have made throughout my years at Shadow and in the volleyball program."
He looks forward to the future with big aspirations, but for now, he's doing everything he can to work in the moment, and all of that goes far from unnoticed.
Luke Wilson, Men's Varsity Volleyball Coach, said, "Justin is one of the hardest working kids on the team. He will do anything you ask and without question. Justin is a solid athlete and addition to our team this year."