COVID-19 Could be Coming to an End in the U.S.
Over 50% of U.S. Adults Have Received at Least 1 Vaccine
As of today, over 200 million U.S. adults are fully vaccinated. At the end of March that number was only 55 million, but with the continuing rollout of the vaccine the world could finally be returning to normal, and soon.
Due to the increased opportunity to get the vaccine, deaths from COVID-19 have also taken a sharp decline to an all time low. They reached a high of over 3,000 per day this past January, and have since declined to just over 500 deaths. Due to this many states are reducing capacity restrictions, including an increase in Clark Country to 80% on Saturday, May 1st.
Senior Franklin Dela Rosa said, "I want to get vaccinated at some point soon because I think that I may finally be able to get some more freedom than I've gotten in the past year."
While many people are still anxious about receiving the vaccine, most have only reported some small flu-like symptoms, headaches, and a sore arm due to the vaccine. Currently, President Biden and the White House are trying to decrease regulations for those who do receive the vaccine, like being able to go outside without masks.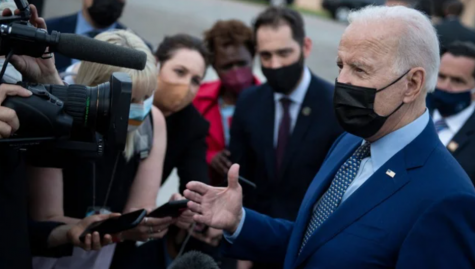 Most current projections are saying that the pandemic should hopefully be over by October at the latest. The major complications in that plan currently are the new strains of the virus, with a new strain from India currently being the main focus. President Biden has recently issued a travel ban to and from India so that this strain cannot spread to the U.S.
"I hope that these strains don't complicate things too much. I am anxious to get back out into the world and I hope that we can be done with all of the restrictions and masks soon," said Dela Rosa.
"
I think though that we are at the end of this period."
— Franklin Dela Rosa
The main problem with these new strains is that they may not be covered by what the current vaccine holds, so people that have already gotten the vaccine may need to get more as the new strains are dealt with. There are already rumors that people who have gotten the Pfizer vaccine may need to get a 3rd shot at some point soon.
"The pandemic has been one of the darkest times in our lives and hopefully we are finally reaching the end. I think though that we are at the end of this period. I want to be completely done with it in 2022, but we may never fully get back to the way things were before," said Dela Rosa.