Pickleball: It's Kind of a Big Dill
Video Courtesy of Paige Smith, edited by Audrey Davis
Dominating the courts with their unparalleled pickleball skills, are Shadow Ridge's very own staff, Mrs. Smith, Mr. Buer, Ms. Robertson, and Ms. Easley. This professional pickleball team has worked their way from playing for fun to making newsworthy shots and serving up losses to other teams.
Ms. Robertson, unofficial captain and founder of the team says, "The idea for the team came to me in a dream–an American Dream, really. The dream where a little girl from small town Oklahoma could grow up to be a champion – a pickleball champion."
Her responsibility is to scope out places for her team to play. The process is intense and she describes, "I spend hours everyday in the park seeking out pick up pickleball games. It's a tough scene trying to work your way in. A few weeks ago I was at the park close to my house, and I approached a group of players and asked if I could slide in during the next set. A gentleman of about 70 got in my face and screamed at me, 'Do you think you got what it takes to play with us?' I realized I did not, and quietly sulked away. It's a vicious circuit."
Though this pickleball business might be hard to get into, the teachers are determined to work on their skills and practice at least once weekly. For hours on end obviously. They have even reached the level of gaining interests from sponsors.
"Our league has yet to attract major sponsors, but we have had some interest from Vlasic. Though the team needs the money from such a sponsorship, we have been hesitant due to the uniform requirement (the shapeless blue hats are so unflattering). I'm sure that the money will be pouring in soon though," Mr. Buer shares.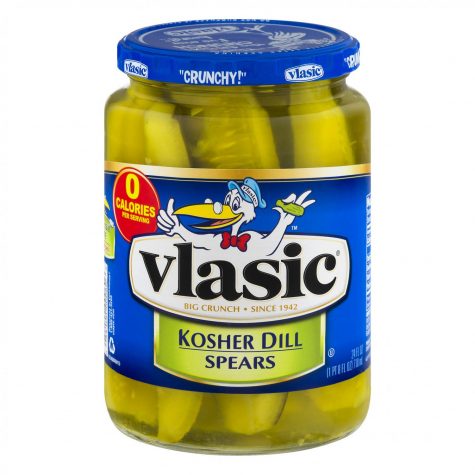 Ms. Smith considers all of her teammates equally matched, but does admit that Ms. Easley is probably the front runner because of her practicing as their mascot.
Mr. Buer agrees, "The best player on the team is definitely Ms. Easley. To this day, she has never missed a return serve and is so quick that you can hardly see her on the court. Her skills are clearly honed, and I have a sneaking suspicion that she may actually be Anna Kournikova. Russia, if you're listening, thank you for your great contribution to our league."
Ms. Easley discloses, "I was tapped by Russia during college to train so I was pumped when I was finally able to show off my skills. I am also the team mascot which is a huge responsibility. I take my dual roles very seriously and have hired a private trainer to make sure I am at peak performance. It is a huge sacrifice and I have had to use all my personal days, but I think my teammates can agree that it is worth it."
"
Teaching doesn't pay all of the bills, and I figured I would rather serve pickleballs than meatballs to a ravenous horde of Karens to make some extra cash."
— Mr. Buer
Shadow Ridge currently has a men and women's tennis team, but not an official pickleball league. This a disappointment considering that there are lines on the courts designating the boundaries for pickleball and pickleball equipment typically used for physical education at Shadow.
"Shadow Ridge should have an entire pickleball league," Ms. Robertson emphasizes. "There is no reason at all that teachers cannot sign up and spend hours every evening honing their pickleball skills. Time for personal lives is overrated. Pickleball is the best because it takes the best parts of ALL the superior sports: ping pong, volleyball, and tennis, and mashes them together into one perfect game that anyone can play."
Ms. Smith suggests at the very least a seniors vs. teachers pickleball game. The team's ultimate goal though is to start an SRHS league where they can compete against retirement home pickleball teams. It seems that local retirement homes have been hogging the courts in their pursuit of a pickleball championship.
"We need to reclaim our courts even if that means sleeping in our cars overnight at the park to secure the courts in the morning. I think the retirees arrive around 5 am so this will take a lot of commitment."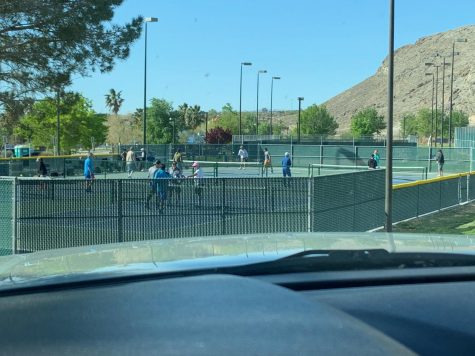 She continues, "Pickleball is an amazing sport because it allows the older generation to really get out on the court and show the young kids that we still have what it takes in the athletic realm. When we play doubles, we don't have a lot of court to cover (so we don't have to run a lot) and since we all generally have a stressful work week, it allows us to get our aggressions out when we pound the ball down each other's throats."
The team, despite being professional, encourages anyone who's interested in playing to contact them. Everyone is welcome! They are still deciding on a team name, so staff members should be anticipating a Google form headed their way.