Best Buy Beta Membership
In April, Best Buy announced an offering of a $200 membership called 'Best Buy Beta' which includes free device installation, a concierge service for tech support free shipping, and much more to compete with Amazon. 
As of right now, this membership service will be available in the following six states, Iowa, Oklahoma, Pennsylvania, Minnesota, North Carolina, and Tennessee. All of the perks will be complimentary with the service. 
"
For $199.99 per year, or $179.99 per year for Best Buy credit card holders, membership also includes access to a concierge service that is available only to Best Buy Beta members. The Best Buy concierge team is available 24/7 by phone, chat, email or through the Best Buy app."
— Best Buy Blog (Katie Huggins Staff Writer)
"The retailer said Wednesday that it was piloting a $199.99 annual membership program with free device installations, a concierge service for tech support, and other perks. The program, Best Buy Beta, will be available at around 60 Best Buy stores in six states by the end of this month. It also includes free shipping without order minimums, extended return windows, and exclusive sales," states CNN Business. 
Anyone can buy the membership, but it is mainly geared towards people who have more technology in their homes but have trouble understanding it and need some help. Best Buy already had a history with a subscription service. This service was mainly a tech help group. 
"Best Buy's chief customer officer said in the company's press release that it was looking to continue developing membership programs. Best Buy already offers a Total Tech Support program for $199.99 per year, as well as a points program. The Total Tech Support program will be replaced by Best Buy Beta at the stores where the new program has been launched," states Business Insider. Many companies are recently coming out with membership programs to bring in more customers.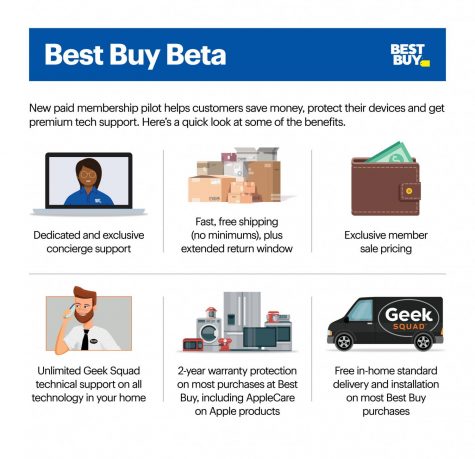 "The program is Best Buy's latest attempt to generate more revenue from services, which last year accounted for just 4% of U.S. sales in the fourth quarter, the same share as in the previous year's quarter. Retailers like Walmart Inc., meanwhile, have rolled out their membership programs to counter the success of Amazon Prime, which had 142 million members in the U.S. at the end of 2020, according to Consumer Intelligence Research Partners, states Bloomberg. 
Many people enjoy shopping online because of the convenience, which is why companies that offer shipping and pickup are very popular. Best Buy offers just a few more perks with their in-person tech support.