Nothing Blocking Nwuli
A true superstar senior mustang, Zanta Nwuli's high school experience is finally drawing to a close. He has one of the most impressive and amazing high school resumes out there. On top of being one of the highest-ranked students in his class, with a good shot at being a valedictorian, Nwuli also participates in National Honor Society and Shadow Ridge Student Council. He is also a phenomenal athlete who excelled at basketball, while it was available, and is currently captaining his other sport, track and field. Shadow Ridge has provided many exceptional opportunities to Nwuli, but he is prepared for the next stage of his life after high school. He plans to attend UNLV and double major in Business Administration and Psychology.
Unfortunately Nwuli's senior basketball season was cancelled due to the pandemic, but thankfully he still has the chance to participate in track. The events he focuses on are the 800, the 4×800, and the 200, with his best 800 time being 2:10.38, mere seconds from qualifying for state on the very first race of last season. Regardless, this year, Nwuli isn't necessarily in it for the times. He's just excited to compete and have fun being a part of the team.
"A lot of my inspiration to work hard whether it is in track or in school comes from my intrinsically motivated nature. I've always strived to become a better version of myself in whatever I choose to put my mind to and I always try to push myself harder than the previous day or the previous practice," Nwuli explained.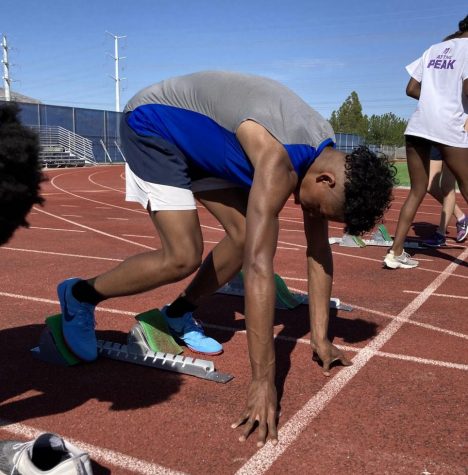 All of this hard work and effort he puts into his life doesn't come without trials or difficulty. It can often be tough to do as much as Nwuli does.
He elaborated, "For me right now, it is pretty difficult to balance so many different aspects of my life. I have to keep up with five AP classes, focus on track, go to work, manage Student Council responsibilities, and manage my responsibilities at home all at once. It is definitely draining and leads to many sleepless nights, but at the end of the day it is worth it and it will all pay off in the end."
"
I will always strive to be a better version of myself and continue the grind until I reach the ultimate goal where I can live a comfortable and healthy lifestyle with a beautiful family to call my own."
— Zanta Nwuli
Although it can be extremely straining, the persistence that Nwuli displays is certainly not unnoticed. His teachers, coaches, and fellow Mustangs recognize his diligence.
Dennis Speaks, junior, stated, "Zanta is one of the hardest workers I've ever seen. Not only is he my captain for the track team, but he's also top of his class in academics while having a job. His work ethic and dedication to the things he does is truly inspirational." Coach Mike Smith added, "Sheesh! Zanta is exactly what you look for in an athlete, a student, and an overall human being. Perfection."
Being a Mustang has been an important part of Nwuli's life, and he certainly won't forget it. More than anything though, he'll remember the people.
Zanta stated, "Shadow Ridge has brought many memories and opportunities that I know I will cherish years from now. My favorite part is the people that I have had the chance to call my friends and grow alongside as each year of high school passed by. Some of these people have changed my life and made me a better person by just being there, and I'm glad that our life timelines were able to align. There are a handful of individuals who won't even be able to understand how much they mean to me, and I'm glad that they have embraced the high school journey right by my side."