Marleau's Achievement Transcends Bitter Rivalry
How Golden Knights Fans Cheers for a Member of the San Jose Sharks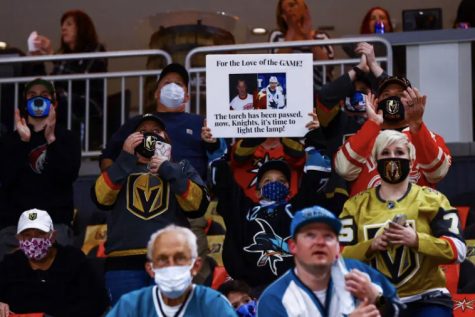 On April 19th, 2021 Patrick Marleau, player on the San Jose Sharks, played his 1768th game, breaking Gordie Howe's record for most games ever played in the NHL. It was against the Golden Knights at T-Mobile Arena, and never has The Fortress cheered so much for a player who is considered a bitter rival.
There was about a 5 minute long ceremony for Marleau after he took the first shift of the game. Golden Knights fans brought posters and shirts to cheer for his achievement. The Golden Knights and Sharks have had a bitter rivalry ever since the Golden Knights came into the league, and while this game was still heavily contested after it was over all of the Golden Knights and Sharks stayed on the ice to form a handshake line with Marleau and to salute him.
"It was incredible to watch," said sophomore Michael Bracha. "I've never seen such a display of sportsmanship live before."
"
I've never seen such a display of sportsmanship live before."
— Michael Bracha
Patrick Marleau played his first NHL game October 1st, 1997, as one of the youngest players to ever play. Drafted 2nd overall by the San Jose Sharks that summer, Marleau made an immediate impact with them out of the gate. He holds almost every offensive record for the Sharks including goals, points, and game-winning goals.
"With just how physical the NHL is, it is absolutely incredible that he has lasted so long in this league, I wonder where he would be at if he didn't miss out because of lockouts," said Bracha
He's had 3 different stints in San Jose, played for the Toronto Maple Leafs for 2 seasons, and a few games with the Pittsburgh Penguins. His first time with the Sharks lasted from the 1997-98 season all the way to the 2016-17 season. That off-season he signed as a free agent with the Maple Leafs. He was eventually traded away from the Maple Leafs after 2 seasons and made his way back to the Sharks for the 2019-20 season. San Jose was nowhere near a playoff spot, so during the 2020 trade deadline, Marleau was traded to the Pittsburgh Penguins in hopes of winning a Stanley Cup. After the Penguins were eliminated in the play-in round by the Montreal Canadians, Marleau would re-sign with the Sharks for this season.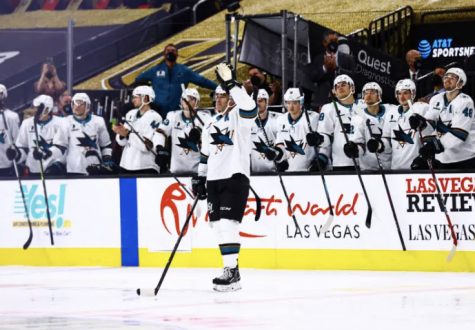 It is remarkable that a player who has always been a "Face of the Franchise" for the Sharks and has no connection to the Golden Knights, was cheered on by fans of the biggest rival to his team. "It was one of the coolest sports moments I've ever seen. Even though he plays for the Sharks, he just seems like a great guy and it's crazy to see that kind of longevity in any sport," said Bracha